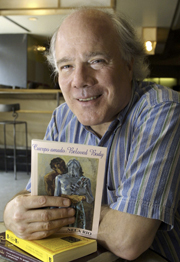 Multilingual poet Hugh Hazelton teaches Spanish translation at Concordia.

Photo by Andrew Dobrowolskyj

by James Martin

Newly appointed to a tenure-track position, Hugh Hazelton has been teaching Spanish translation and civilization courses at Concordia since 1988. Hazelton is also an accomplished multilingual poet and translator, as well as a native of Chicago, raised in English. He's quick to anticipate the inevitable question.

"You might be thinking, 'How did he get into Spanish?'" he says with a good-natured shrug. Then he reels off his seminal early influences, including a childhood interest in archaeology (specifically pre-Colombian civilizations), and a close friend who introduced him to Chicago's vibrant Mexican community. "I was just always interested in Latin America."

His career as a translator evolved in a similarly natural fashion.

"Starting with Brazil in '64, waves of political oppression pushed people north to Canada," Hazelton explains, noting that new Spanish-speaking arrivals concentrated in Montreal, Toronto and Ottawa. "There was Chile in '73, and Argentina in '76. Then there's been the Colombians, the Salvadorans, the Guatemalans . . ."

Hazelton himself settled in Montreal after travelling extensively in Peru, Argentina and Brazil during the mid-1970s. He began volunteering his multilingual services to local Latin-American solidarity groups. Soon, friends asked him to translate Spanish scripts for the National Film Board. Short story translations, then entire books, followed.

By the mid-1980s, Hazelton figured there was a PhD dissertation topic lurking somewhere in all this translation experience, and enrolled in the Canadian comparative literature program at the Université de Sherbrooke.

He's now working on a second PhD, this one in Hispanic studies at the Université de Montréal.

While working on his first PhD, Hazelton co-edited (with Gary Geddes) and was principal translator of Compañeros: An Anthology of Writings About Latin America, collecting both Canadian writings about Latin America and the work of Latin-American authors now living in Canada. The Montreal/Latin America connection continues to thrive, he says, as evidenced by events such as the monthly Proyecto Cultural Sur poetry readings, organized by local poets Hector Torres and Tito Alvarado.

"Even today," he adds, "Brazilians really like Anne Hébert, the Québécois writer."

Hazelton's extensive translations include a book of short stories by Salvadoran ex-pat Alfonso Quijada Urías, an anthology of Latin American legends called Jade and Iron, and a volume of poetry by Nela Rio, an Argentinean writer living in Fredericton since the late '60s. Hazelton was also heavily involved with Ruptures, a now-defunct but highly ambitious literary journal. (Each issue offered simultaneous English-French-Spanish-Portuguese translation of each article.)

His most recent translation is Beloved Body (Cuerpo amado), a second book by Nela Rio. Characteristic of her work, Beloved Body is sparse, precise, and carefully constructed. Through oblique, abstract imagery, the book tells the story of a man and woman who developed a passionate relationship "when life was already a fixed point," and how the woman's ensuing breast cancer affects this relationship.

Before contemplating a literary translation, Hazelton says it's essential he feel "close to the text." He was attracted by how Rio "writes about themes that a lot of people don't write about in poetry, about people later in life experiencing sickness, old age, eroticism."

He was also engaged by Rio's use of "really honed-down language" — a selling-point not without its translation difficulties. "There's no wasted time in her poetry, so it's a real challenge for a translator.

"I just try to convey what the poet is saying by reproducing the level of language, the rhythms, the rhymes, the images, the alliterations as closely as possible in the target language — without interpreting too much. I try to get every nuance, even as far as the sound of the language."

Next on Hazelton's translation list is Sunset, a satirical novel by Argentinean ex-pat (now living in Ottawa) Pablo Urbanyi. "Now there's a challenge: his sentences are quite long, and he likes humourous or ironic asides as he moves along. That's quite hard to adapt to English, because English style is not nearly as convoluted, unless it's Faulkner or something."

This fall, Broken Jaw Press (publishers of works by Rio and Urbanyi) will publish Antimatter, Hazelton's own book of "experimental and/or engagé" poetry, complete with a companion CD of the poet reading his work.

Antimatter is an English-only release — for now. Hazelton reports he's already translated the poems into French and Spanish, and would love to see Antimatter eventually joined by Antimatière and Antimateria. When asked about the possibilities of French and Spanish CDs, however, the seemingly tireless poet-translator-teacher appears to finally hit the wall.

"Oh, I don't know about that!" he says, laughing at the daunting prospect. Then, after mulling the idea over for a few seconds, he mischievously adds, "But, theoretically, who knows?"

---
Students write in Spanish

The students in the Hispanic Studies Association have produced their second annual collection of original work under the title En dos palabras. . . (In Two Words).
Ten students contributed to the issue, and they acknowledge academic support from Professors Hugh Hazelton, Catherine Vallejo and Daniel Zamorano.