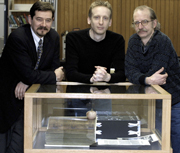 (click on image to enlarge)

Left to right,John Barrett (Art Matters liaison, Vanier Library), Alex Olynyk (exhibits coordinator, Webster Library), and David Thirlwall (Head, Vanier Library).
They are standing behind the library's replica of the 9th-century Book of Kells,
one of the most beautiful illuminated manuscripts in the world. The original is at Trinity College, Dublin. (The ceramic apple is there just to keep the book open at a selected page.)

Photo by Andrew Dobrowolskyj


by Anna Bratulic

On their way to a CLUES terminal, students and staff occasionally stop to view the contents of the glass cases displaying interesting possessions of the Webster and Vanier Libraries.

They may be academically valuable items, like the handsome handbound reproduction of the ancient illuminated bible, the Book of Kells, presently sitting encased in the circulation area of the Vanier library, or a collection of books and other manuscripts on a theme such as the building of the Victoria Bridge, a display mounted in honour of the recent Engineering Week.

"The displays are a pretext to bring out what the library has to offer in terms of collections and services," said Diane Sauvé, Instruction librarian at the Webster Library. "But we have so much going on in terms of services that we can't allocate a lot of the resources to change the displays very often."

Nevertheless, she says, they are fun to do and hopefully will make viewers see what can be found in the library if they dig deep enough. "Even when a topic is light, it's always interesting to find out that there are serious articles written up about it."

There are about six different displays mounted at Webster every year, most of them thought up, researched and assembled by reference assistant Alex Olynyk, who does it on an unofficial basis. The challenge is to find new twists on old topics.

"I'm coming to the end of my rope trying to think of different angles," Olynyk said. Past themes have included a look at the Olympics through the eyes of cartoonists, displayed during the 1998 Winter Olympics; black hockey players in the NHL, in honour of Black History Month; and recently, just in time for exams, a display about students and (lack of) sleep.

People do stop and take notice. Olynyk can see them peering over the glass case from his desk. One homesick student from Nunavut expressed his appreciation for a display about Canada's newest territory when it was created in 1999. He loaned the library his Nunavut flag as a nice finishing touch.

The Vanier library has more space and facilities to accommodate displays, both academic and artistic. Twelve exhibits from the recent Art Matters festival were placed throughout the library and that adds a much needed vitality to the place, says head librarian David Thirlwall.

"Here at Loyola, exhibits are a great way to enliven the atmosphere on campus," he said. "It's not easy for us to hold events, but exhibits are our way to put on cultural events, as it were, without disrupting the peace and quiet."

Special Collections

Special Collections, a department housed at Vanier, contains rare books and antique maps and atlases. It would be prime material to put on display, because these objects would have intrinsic visual appeal as well displaying our own treasures.

A set of guidelines was adopted at Vanier this year outlining policy on library displays. As of last fall, students and staff who are planning events linked with the university can request that a related display be mounted.

The libraries won't shy away from controversial issues, either, Thirlwall vowed. "Libraries generally have a tradition of non-censorship. We prefer to handle any requests for displays on a case-by-case basis."