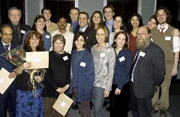 (
click on image to enlarge
)


Back row: Me Pierre Frégeau, Patrice Blais, Frank Pons, Melisa Forero and Benoît Grondin. Middle row: Professor V. Ramachandran, Aviva Rosenberg, N.R. Konepally, Aiman Hanna, Melanie Anestis, Nisha Sajnani, Steven Faguy and René Biberstein. Front row: Lina D'Iorio, Professor Virginia Nixon, Alana Baskind, Candis Steenbergen, Jennifer Willet and Professor Jim Jans.


Photo by Andrew Dobrowolskyj


by Eleanor Brown

Melanie Anestis tried — and failed — to hold back her tears after being honoured for her outstanding contribution to the university community during this year's Concordia Council for Student Life awards ceremony.

"I want to share one lesson I learned," Anestis said, her voice breaking, to a standing-room-only crowd at the April 5 event. "We can learn from each other. There's a lot of tension, we may not always agree, but we have to listen."

Anestis is finishing up her term as president of the Political Science Students' Association and is a member of the Golden Key Honour Society, an acknowledgement of her high academic achievement. "The staff and faculty make extracurricular work possible," she said. "It makes it easier to stay here till 1 a.m. when you're surrounded by nice people."

The awards for outstanding contribution to student life outside the classroom all go to students.

Aviva Rosenberg acknowledged her award by thanking members of the university community. "They made me feel like a person first, instead of a disability," she said. "I built up my self-confidence, self-worth and self-esteem. I am a multi-sensory learner, and I retain more information when I am an active participant. I will cherish this award forever."

She has been a volunteer peer health educator at Concordia Health Services for five years, and spent many long hours researching health queries on behalf of students.

Cristelle Basmaji is one of the few students who can say she changed the curriculum. This year's president of the Commerce and Administration Students Association helped found and organize Concordia's first Undergraduate National Case Competition, which drew teams from 11 of the top business schools in the country. She also helped create an academic program at the John Molson School of Business to coach students for competitions.

"This year has definitely been a lot of hard work," Basmaji said. She, too, acknowledged the complicated state of student politics at the university (a mid-term Concordia Student Union presidential resignation, and two elections in the last few months). "I enjoyed dealing with it full force," she said, of encouraging students to get more involved in their own affairs.

As co-presidents of the 800-member Concordia International Students Association, Melisa Forero (from Colombia) and Benoît Grondin (of France) have helped grow the group substantially.

"Many of you may not go through what international students have to go through in a foreign country," said Forero. She left the details unsaid, but they range from learning a new language to culture shock, loneliness and homesickness. "They need encouragement to make their lives easier in school."

Nisha Sajnani is a Graduate Students' Association executive member, and has spent time pushing for increasing health care benefits for grad students.

"I don't think it's possible to contribute to one's environment without a supportive community. My experience here has been enriched because I have found a space where I can contribute of myself."

A joint award went to PhD students Candis Steenbergen, Jennifer Willet, Alana Baskind and Sylvain Duguay for organizing the university's first interdisciplinary humanities conference, a raging success called R/Évolution.

Duguay said, "For interdisciplinary students, it's always a challenge. We're floating in the university. It's challenging, but also rewarding."

The Link student newspaper staff swept the two media awards given out this year. Editor-in-chief René Biberstein kept his comments short. "This award isn't really just for me, it's for the team that put the Link together this year."

His nomination papers noted the difficult year he's had, from battles with student politicians to the post-Sept. 11 economic downturn.

Link webmaster Steven Faguy picked up the second award. In addition to creating and maintaining the weekly paper's Internet presence, he has also covered student council, a particularly daunting prospect this year. "I do it because I enjoy it," Faguy said. "And also," he deadpanned, "I have most of my classes in the Hall Building [where The Link is located], so it's a good place to sit down."

The merit awards were split among Concordia staff and students. Staff members are often overlooked for their contributions, noted one presenter, as he called to the podium Lina D'Iorio, secretary of the Liberal Arts College.

She said, "The students, are the best part of my job. They hold a special place in my heart."

Associate Professor of Psychology James E. Jans, who is also the acting director of the PhD humanities program, got the nod for being a supportive thesis adviser, updating the graduate handbook and helping push through the R/Évolution humanities conference. "I don't so much direct this program as hang on," he announced, pointing to the students as the true driving force.

Stingers soccer great Frank Pons has accumulated an impressive array of honours for his athletics, but he's also a PhD student in marketing with a 4.02 cumulative GPA. (4.3 is perfect.) "I'm going to stay in school for life," he announced. "I'm going to be a professor."

Niranjan Reddy Konepally is founder and president of the Indian Students Association and a well-loved tutor in the Concave engineering building. This was his first acceptance speech in English, "so I'm a little bit scared." He went on, "Regarding new students, especially those from South Asia, they must have a lot of patience. The education system is very different. It is our duty to help them."

Patrice Blais has sat on just about every university committee open to students, from the Board of Governors to the CCSL itself. He became the interim Concordia Student Union president at a time of internal turmoil.

"Students who go directly home from class don't know what they're missing," he said. "Involvement is an essential part of university life. My main criticism is that we do not truly understand the power that we have [as students]."

Excellent educators

Four teaching excellence awards were given. Me Pierre Frégeau, who runs a full-time law practice and teaches part-time at Concordia, still manages to find the time to be the supervising lawyer at campus Legal Information Services.

He has never succumbed to the drudgery of teaching the same course year after year, said one of Frégeau's former students. "He refers to students as colleagues, and challenges students to be critical thinkers. Pierre teaches to inspire students."

Aiman Hanna lectures in computer science. "Sometimes my wife says, 'You like Concordia more than me.' I really like Concordia a lot, but she is number one!" insisted Hanna, to laughter.
He had serious things to say, as well. "My concern, my duty, my goal, is to make the university number one in Canada, if not the whole world."

Virginia Nixon, art and music coordinator at the Liberal Arts College, whose service her students considered beyond the call of duty, was pleased about the recognition, but called it misdirected. "It's easy to teach students who are really interested," she said.

Twenty years ago almost to the day, Venkatanarayana Ramachandran received a merit award from the Concordia Council on Student Life. This year he got one as a professor in the Electrical and Computer Engineering Department. He said with a laugh that he "didn't arrange any of this." Dr Ramachandran may not have lobbied for the honour, but his students certainly did.