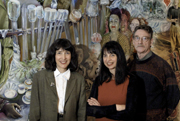 (
click on image to enlarge
)


In the Leonard and Bina Ellen Gallery are curator Loren Lerner (left), and artists Eva Brandl and Graham Metson. They are standing in front of Pandora's Parcel to Ukraine (1993), by Natalka Husar.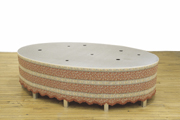 Valse (Les trous du ciel 2000), by Eva Brandl, who lives in Montreal. It is of perforated brushed aluminum and printed cloth.

by Barbara Black

The latest show at the Leonard and Bina Ellen Art Gallery is a Concordia original.

Mémoires et Témoignages / Memories and Testimonies is a presentation of works by 11 Canadian artists who have come from Europe since the Second World War, and range widely in age and provenance.

The exhibition was developed by guest curator and Art History Professor Loren Lerner with the help of a substantial grant from the Canadian Heritage Department.

The origins of this exhibition date back more than five years, when Lerner's research on Canadian artists of Eastern European origin led to a Web site and several graduate courses that she taught at Concordia. Subsequently, the Ellen Gallery obtained a grant that enabled Lerner, as guest curator, to select and interview all but one of the artists.

She was exploring how coming from Europe influenced an artist's work, but she hadn't expected to find her best sources so close to home. "To my surprise, some of the more exciting artists I discovered have taught or are still teaching at Concordia — Werner David Feist (who died in 1998), Eva Brandl, Graham Metson and Liliana Berezowksy. In addition, Angela Grossmann is a graduate of our MFA program."

Place influenced their work

The earliest works in the show are Feist's photographs from when he was a student at the Bauhaus, the innovative art and design school in 1920s Dessau, Germany.

When the Nazis took power, Feist was an art director in Prague and politically active, helping to print pamphlets that were smuggled into Germany. Forced to flee, he went first to Poland, then escaped to England, where he worked for British Army Intelligence during the war.

Graham Metson's Growing Up in Wartime (1980-2001) is a series of mixed-media works that recall what it was to live in East London during the war, when he was age six to 11.

Liliana Berezowsky's Night Queen (2002) is a monumental structure. Is it a huge witch's cap or a medieval princess's headdress surrounded mysteriously by black lamb's wool? Born in Krakow, Berezowsky immigrated to Canada as a child. Along with the many fairy tales she read, she imagined a fairytale land called Poland.

For Eva Brandl, who was born in Stuttgart, Germany, and also came to Canada as a child, the objects and materials of Valse (2000) stimulate thoughts and feelings of another place and time.

As well as Feist's photographs, some of the other work in the exhibition was conceived in Europe. Action (1941) is Gershon Islowitz's earliest surviving photo. It was hidden in an attic in Kielce, Poland, before his deportation to a labour camp.

In it, Lerner describes "a mother with black, penetrating eyes probes the callous face of the Nazi soldier tearing her young daughter from her arms." The other drawings, Selection Auschwitz (1944-45) and Condemned (1944-46), were salavaged from the Buchenwald concentration camp, where Iskowitz drew secretly at night.

George Dyens' sculpture and drawings Porte de l'Enfer (1962-66) recall his ordeal as a soldier in the Franco-Algerian War and his childhood in Tunisia under Nazi occupation.

Marcel Braitstein was a hidden child, protected by a Belgian family from the concentration camps. His art has a fossilized quality, evoking a civilization half-buried, half-forgotten, layered over.

Caroline Dukes was confined to a ghetto in Budapest towards the end of the war. In Music School (1996), she reveals the violence originating from a Munich building, now a music school, that had been Hitler's headquarters.

Angela Grossmann knows little of her own family's German history, because they were killed in the Holocaust. Lerner said, "In her Looking Back series (2000-02), she creates images of women from the 1930s and invites us to contribute to her fictitious narrative."

Natalka Husar recently returned to visit the Ukraine. She suggests the lingering corruption of the Soviet era and the tragedy of children affected the nuclear disaster at Chernobyl in the painting Pandora's Parcel to Ukraine (1993).

The youngest artist in the exhibition, Sadko Hadzihasanovic, is a recent arrival from Bosnia. Me, Me, Me in Light Boxes (2002), Lerner said, "are self-portraits of gentle humour and serious content that question identity and autobiography."

For each of these artists, "place is ongoing and dynamic, an ingredient in something else, influenced by history, politics, ethnicity, class, gender relations and the products of poetic imagination."

The show opened on April 9, and will end May 18, after which it will travel to galleries at Carleton University in Ottawa, the University of Toronto and Memorial University of Newfoundland. For gallery hours, see the Back Page.