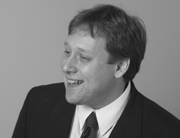 Political Science Professor Loïc Tassé lived in China for four years.

Photo courtesy of Brumant -Chaire Raoul-Dandurand

by Frank Kuin

Unless Canadian universities get serious about training specialists on China, Canada risks being caught off-guard by China's meteoric rise to economic world power, says Loïc Tassé, a political science professor at Concordia.

Most Westerners are unaware that China is now the fifth-largest economy in the world, and is expected to outstrip current number two, Japan, in about eight to 10 years, warned Tassé, a specialist on China who has spent four years in that country.

What's more, he said, "some people predict that within the next 20 years, China is going to be more powerful than the United States, economically speaking."

However, Western countries, including Canada, seem content to leave the economic initiative exclusively to the Chinese.

"What is going to happen is that the Chinese are simply going to control the trade between Canada and China," he said. "It seems to me a bit strange to leave the opportunities of commerce only to the Chinese.

"The problem is that at our universities in Canada, specifically here in Montreal, we don't have many specialists of China who can understand and teach Chinese politics, economy and sociology."

Therefore, he says, it's urgent that Canada give people as firm an understanding of China as many Chinese have of Western culture. Chinese students and businessmen know Western countries extremely well.

"We need to train more specialists for the government, for universities, and for the private sector," he said. "The demand is really there."

Spectacular economic boom

Tassé explained the Chinese economic miracle has come about as a result of Deng Xiaoping's measures to end communist-style economic planning in the late 1970s. Since then, China has gradually embraced capitalism, especially in its coastal areas — and boomed. "The Chinese economy has been growing for 20 years now, and it looks like it will keep growing for the next 20 years."

Some of the factors in China's spectacular economic growth include its tremendous manpower, its attraction of foreign capital, partly through the enormous worldwide Chinese diaspora, and the development of its manufacturing sector on the basis of its pre-existing, well-developed military industry.

Moreover, China can compete with Japan and the United States because its wages are much lower. Indeed, labour-intensive industries in China tend to move inland, in pursuit of cheaper labour. This economic frontier can benefit China for decades to come, Tassé said.

Tassé dismissed as "a misunderstanding" the image of China as a Third World country. While many areas of China are very backward, others are extremely rich and look much like developed countries, with modern cities such as Shanghai.

"The very rich part of China is made up of something like 300 million people," Tassé said. "That's about the population of the United States. Imagine the economic power of these people."

However, for a Western entrepreneur to get into China, it is very important to understand the Chinese culture and mentality.

"In China, every economic matter is first of all a political matter. So if you want to understand the Chinese economy, you have first of all to understand the political context."

And there are cultural differences. For instance, your Chinese business partner will want to get to know you, Tassé said. "He will want to know a lot about your personal life, if you're married, if you have children."

The reason is that it's vital to build a relationship of trust in China, as the legal framework is much weaker than in Western countries. "They want to be able to rely on a person, so it can take a long time to negotiate in China."

Not enough people are available in Canada to bridge the cultural gap — let alone enough people who can speak Mandarin, Tassé said. "The most urgent task seems to be to understand China."