$1.2 million will help Concordia students go on exchange
The Quebec government will provide nearly $1.2 million in aid for Concordia students who wish to study outside the province for short terms.

Bir Sahni, Director of Concordia's Centre for International Co-operation, was delighted to be able to make this announcement at a reception for the university's own international students on September 15.

"This is a most welcome initiative, and it is likely to contribute significantly to our efforts towards internationalization at Concordia," Professor Sahni said enthusiastically.

He introduced the large group of students to Michel Brunet, director of international co-operation for the Ministry of Education.
"My job at the Ministry of Education is to support the internationalization of Quebec universities," Brunet told them. "This celebration is so important to me that I drove from Quebec City this afternoon and I'm going back tonight."

In August, the government announced that $30 million would be granted to Quebec universities over three years to encourage local university students to study abroad, and Concordia's pro rata share is $1,179,200.

Quebec receives more international students than any other province, but for every four international students studying in Quebec, there's only one Quebec student studying abroad.

"These are not just scholarships to help future PhD students to do research," Brunet said. "The government of Quebec is targeting first and foremost Bachelor's students to help them give their curriculum an international perspective."

The distribution criteria are left to each university to decide, but Brunet pointed out that "the scholarships should contribute to students' academic progression. This is not about student tourism."

Details about the criteria and application process for this new bursary program is available from the Centre for International Academic Co-operation, Loyola Campus, AD-207.

- Marie Valla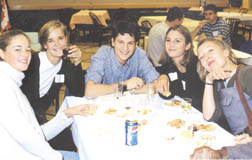 by Marie Valla

When Claudette Fortier welcomed international students to Concordia at a reception on September 15, she drew the obvious parallel with another international event, the opening of the Olympics in Australia.

"It's not on the same scale, but the intent is the same," said the International Student Office Co-ordinator. "Just like the athletes, you're brave, you're courageous. You bring such a diversity to Concordia."

Concordia's 1,400 international students are willing to face new challenges, but their major difficulty this year seemed to be finding an apartment. The crowd cheered in agreement when Fortier compared it to a marathon.

Temesgen Mengitu arrived from Ethiopia on August 28, and he's living with friends until he finds a place. "Even if there are some places, they're too much expensive for a student to afford," he complained.

Andrea Cestaro, president of the Concordia International Students Association, has had to comfort many students. Some of them were even considering going home. "We sit down, go over the papers and put them in touch with other students going through the same difficulties," she said.

Cestaro, a Brazilian student in French and Political Science, remembers how she struggled with English when she first arrived. "When you're home and you're a very good student and you do well in English, it's one thing. When you come here and you have to survive in an environment with English speakers, it's something else," she explained in now-fluent English.

This being Montreal, a few students have realized they also need to be worried about their lack of French. Temesgen Mengitu discovered to his cost that he was living in a francophone city.

"There's a gate and something written in French. I don't know what it is. I enter inside. Unfortunately, it's a safety exit. It can only be opened from the inside. I was locked there for about 10 minutes," he said cheerfully.

Hawaiian-born Veronica Fajardo, 37, admitted she was confused at first. "I had studied French for many years. But the first thing I thought when I got out of the plane was, Oh my God, what language are they speaking?"

International students are eager to adapt to the Canadian way of life, but the way Montrealers interact is both exotic and intimidating to many of them. William Garcia, 35, finds Montrealers nice, but a bit distant. "In Colombia, we're used to be more friendly, we speak out more easily, we touch each other."

Local Concordia students might be a bit reserved, but Fortier asked the newcomers not to hold it against them. "They may not know that you're from abroad. It's not written on your forehead and Concordia is multi-ethnic."

Cora Capurro's first encounter with Montreal's homeless population was a shock. "Here, you're supposed to have a high level of security," the former journalist from Argentina pointed out. "These people on the streets, why are they not working?"

Capurro hasn't really had time to miss her country, but if she does miss anything from home, it's the food. No matter how happy you are, feelings of nostalgia are never far away. "It's cyclical," she said philosophically. "Little by little, you get over it."

And then there's the winter. . . but it's too early to talk about that.

- Marie Valla is a Journalism student who has been on exchange.