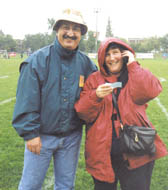 Mario Rapagna, co-chair of Homecoming 2000 and a member of the board of the Loyola Alumni Association, with Cindy Hedrich, Homecoming organizer.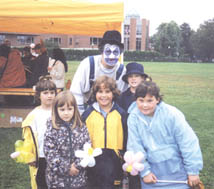 There were some disappointments over Homecoming weekend this year, but as always, it was filled with reminiscences and laughter.

The score at half-time in Saturday's Shrine Bowl/Homecoming Cup football game was 11-0 for the Stingers over the McGill Redmen — but the final score was 12-11 for McGill. The annual game benefits the Shriners' Hospital. A good crowd enjoyed the pre-game barbecue and some family fun.

More than 100 members of the first graduating class of Concordia University, class of '75, celebrated their silver anniversary with a reception in the McConnell atrium on the Friday evening. Concordia University Alumni Association president Peter McAuslan spoke, and Rector Frederick Lowy presented each grad with a diploma to commemorate the occasion.
More than 100 people attended the Rector's Reunion Dinner at the Club St. Denis on Friday night to celebrate the classes of 1975, 1970, 1965, 1960, 1955, 1950 and 1945.
Scheduled Abitibi-Consolidated speaker Gwynne Dyer didn't make it to Concordia for his talk on September 21 due to delays at a security-tight London airport.

However, folksy, frizzy-haired comedian Lorne Elliott tickled a good crowd at the Oscar Peterson Concert Hall on Saturday night by ruminating on suburban life and singing homegrown ditties.