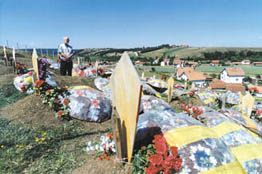 Eventful sabbatical for journalism director

Enn Raudsepp's trip to Kosovo came in the midst of a sabbatical year, and on the heels of another training venture that took place in February in Cambodia, when he spent a month teaching basic Western-style journalism to print journalists in Phnom Penh.

"People from story-telling traditions reveal information gradually, sometimes a long way into a lengthy story," he explained. This contrasts with the Western way of organizing a story into an inverted pyramid, with the most important information up front, which, for print purposes, is more effective.

As in Kosovo, the political landscape of Cambodia is rocky. During his time in Phnom Penh, Raudsepp got to know the editor of a weekly newspaper. "He had a Western-style attitude to journalism," Raudsepp said. "He was making waves, examining money trails and paper trails. Two days before I left, his paper was closed down for a month. He didn't openly blame anyone, the situation is too volatile for that, but there are accidents and disappearances."

In between classes, Raudsepp worked with the Women's Broadcast Collective, a non-profit organization that recently received international funding. The Collective was organizing a project surveying rural communities on gender issues, and asked Raudsepp to assist in the design of questionnaires. Raudsepp also gave lectures at the Royal University of Phnom Penh, which has recently started a journalism program.

This fall, Raudsepp is back as Director of Journalism after his eventful sabbatical year. His many experiences have made a lasting impression on him and will doubtless effect the way he approaches his work as a teacher.

- Rosalind Raddatz
gg
by Rosalind Raddatz

Journalism Director Enn Raudsepp has been teaching journalists in Kosovo as part of the Program to Assist Independent Media in Kosovo. The innovative exchange program is co-ordinated by Réseau Liberté, which is based in Montreal and funded by the Canadian International Development Agency (CIDA).

Six media executives from Kosovo came to Montreal last spring for seminars given by Lyle Cruikshank, who teaches media management in Communication Studies. Meanwhile, Raudsepp was one of three media specialists (print, radio and television) who went to the capital, Pristina, for four weeks to work with journalists in mid-career.

"We had discussions with editors on coverage, verification, style, context, representation and diversity," Raudsepp said. "Then we were to go out daily with reporters, and act as a resource. At the end of each day, I held seminars with young interning journalists."

Raudsepp kept a gruelling schedule, working an average of 10 hours a day, six days a week. "Journalists there work longer hours than journalists here, and are expected to write one good story every other day on minimum," he said. There are few working telephones. "If you want to see someone you walk," he laughed. "I saw a lot of Pristina."

Teaching journalism through interpreters presented challenges. "Journalism is language- and culture-specific. None were able to write in English, so I couldn't effectively assess their progress, although they seemed get a lot out of the exercises."
Trauma spills over

While the sound of gunfire is rarely heard any more, Kosovo is not really at peace. "This is a very young society where over 60 per cent of the population is under the age of 30. There is trauma associated with that. Everyone I met had first-hand stories of the dispossessed, tortures, killings, landmines, and separated families."

This trauma spills over into the media as well. "The country is in the early stages of coping with a democratic society. It is a volatile period, and one that we must treat with understanding and accommodation. Racism is inevitable. The Albanians feel hard done by. Not a single person has been unscathed by the events of the last decade. They are not prepared to forgive and forget, and the desire for revenge is great."

Consequently, there is a great deal of partisanship in the press. "Many people have their own visions for the future. There are six papers in a market that can at best support two. Clearly, the money is coming from elsewhere." At this time, Pristina is almost entirely Albanian. The Serbian enclaves that remain are guarded 24 hours a day by the United Nations.

In the afterglow of gratitude towards the UN for an end to the killing, there is growing frustration. Even though the Kosovo Liberation Army (KLA) has been officially disbanded, they continue to operate openly and control black market activities.

"Things are done with KLA approval, and journalists are caught between this and the actions of the UN," Raudsepp said. "Decisions are made by the UN without public consultation. The press can't bring attention to the issues to allow the public access in the decision-making process, and so the press are forced to rely on their own confidential sources." Sometimes they feel they have to resort to "printing rumours."

"Kosovo is a laboratory for media ethics. Journalists are aware of their social role, but they need to be taught about the underlying context of journalism and ethics."

Raudsepp is now in Pristina presenting a paper he wrote called "Code of Conduct: An Analysis." He says it tackles the many issues he faced last May. "I deal with the representation of minorities, diversity, and verifying information instead of spreading wild rumours."