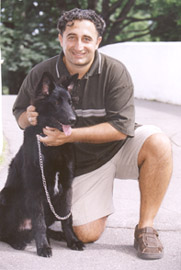 Gad Saad, with his friend Amar

Students rave about Sacksner
On Profscan (http://profscan.com/), a Web site that invites students to give evaluations of their professors, Jeffrey Sacksner gets rave reviews for the way he teaches MANA 461, Implementing Competitive Strategies.
Here's just a sample of the comments:
« "Super course, super prof. Most work is assignments Ñ entertaining Ñ proof that learning can be fun. A well-organized educator, with business experience to match."
« "Just make sure you participate and know your stuff. The greatest thing about him is that he wants to help you succeed."
« "This guy is unreal Ñ energetic, interesting, funny and down-to-earth. He ties in realistic situations and job experiences. It's a joy to go to class."
« "Wow!!! I have never seen a teacher so interested in making [his students] enjoy the process of learning."

Dr. Gad Saad and part-time lecturer Jeffrey Sacksner got a big hand when their Teaching Excellence Awards were presented at the June convocation ceremonies. The Faculty of Commerce and Administration was the first of Concordia's four Faculties to establish awards for teaching.
Marketing Professor Gad Saad is heading off for a sabbatical year in California with the sense that his work here is truly appreciated. He readily admits that teaching came naturally to him when he arrived at Concordia in 1994 with a freshly minted doctorate from Cornell University.
"I'm an extrovert with some introvert tendencies," he said. "Sometimes I want to go into my cave and work on my research, but without teaching, I'd die. I'm sociable, and I need a forum to interact in." Saad's approach is to lecture on the theory, then break up the class to look at how it is applied.
He pushes his students to choose the subjects of their projects, because their choice is an important part of the assignment. Group projects, a widely used learning technique in Commerce, are frustrating for some, but Saad says they mirror the way students are likely to work in an office environment, and they're a boon for professors, reducing their marking to a manageable level.
He stays in touch with his students as they work on their assignments. "My style is to be very, very available. My door's always open," he said. Saad, who was granted tenure last year, has been teaching at every level — undergraduate, Master's, MBA, and doctoral --and pursuing his own research on the applications of evolutionary psychology to consumer behaviour.
While he's aware that "some professors hate teaching, and consider it the annoying part of their job," he knows that many have brushed up their skills by seeking out the Centre for Teaching and Learning Services.
"What I really can't stand are the ones who are good teachers, and just sit back and say that because of that, they don't need to do any research. They should be teaching in a high school. Teaching at a university must involve active research."
Jeffrey Sacksner holds down a responsible job
Jeffrey Sacksner, who won the Commerce teaching award for part-timers, holds down a responsible job at Nortel as well as teaching an evening course every term.
Sacksner had an engineering degree from Concordia and a job at the aviation giant Lockheed Martin when he decided to do a Master's of Business Administration. A summer course with Mohsen Anvari (now dean) ignited a love affair with learning.
"Mohsen was the most inspiring teacher I'd had," he said. Anvari encouraged him to start teaching part-time in 1992, and Sacksner has been teaching courses in organizational behaviour and implementing competitive strategies ever since.
"I firmly believe that the teacher's responsibility begins in the classroom, but doesn't end there. I try to make the class rich in terms of real-life experience. I bring in executives and former students from Bombardier and Nortel [to talk to the students]."
As for teaching itself, "I love it." While he has to fit it around his day job, Sacksner said, "It keeps me current."
- Barbara Black