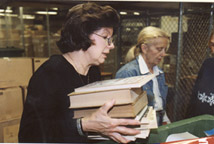 Book sale brings out helpers
Organizer Barbara Barclay (left) and Daphne McKergow were among the volunteers who turned out over the summer to unpack and sort the donations to the fourth annual Concordia Used Book Fair, slated for October 4 and 5 on the Mezzanine of the Henry F. Hall Building. The goal this year is $10,000. More volunteers are always welcome for this fundraising project for emergency aid for students, and should contact Barbara, at barclay@alcor.concordia.ca. Donations of used books are still welcome, and should be marked "Book Fair" and dropped off at the Hall Building loading dock. The Concordia Volunteers are starting work on another project, a Concordia Community Cookbook. If you've got a favourite you want to share, send it to Barbara by e-mail.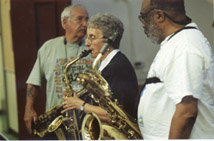 Jazz buffs
Perennial participants in the Jazz, Jazz, Jazz week offered by Elderhostel during the Montreal International Jazz Festival, these musicians entertained about 40 fellow students and showed them the structure that underlies that creative exercise known as the jam session. Joan Ceaser took up the saxophone only five years ago at age 62, and now plays in bands in the Toronto area. Bunkie Emerson (above right), a retired Bostonian, has been attending Elderhostel for 14 years. Paul Vignoli (background), also from the Boston area, use to play professionally, and Paul Broadnax (not seen) is a veteran pianist and jazz singer. Elderhostel is an international network of educational tourism for seniors, and several courses are offered at Loyola every summer.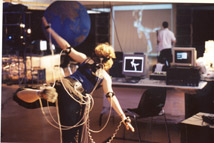 Dancing digitally
Dancer Helen Simard is seen in a motion-capture suit, which sends digital information about her movements to an animated figure, seen on the monitor in the background. The suit is part of the Digital Image and Sound program. It is used by animation teacher John Matthias in his classes, and for experimental projects with the Contemporary Dance Department. The photo was taken at the Festival des Arts de St-Sauveur, held July 28 to August 6, where a group of Concordia faculty and students put together several interactive, interdisciplinary exhibits under the title CREART 2000. They were Michael Montanaro and Helen Simard (Contemporary Dance), Eric Mongerson, Ana Cappelluto, Jason Whiting and Ken MacKenzie (Theatre), Mark Corwin, Ian Churprun and Yves Gigon (Music) and Matthias (Cinema).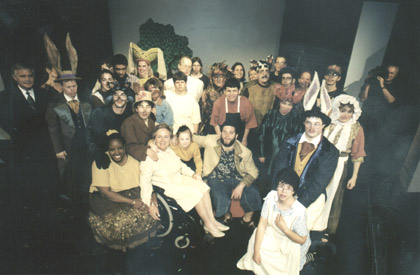 The Queen of Hearts
Lieutenant-Governor Lise Thibault (centre, photo above) was in danger of being drowned by the Queen of Hearts — drowned in a sea of kisses, that is.
Faculty and students of Concordia's Centre for the Arts in Human Development have been using movement, art, music and drama to develop the potential and confidence of clients of the West Montreal Readaptation Centre. Their work has resulted in several joyful original musicals, usually based on such well-known stories as Aladdin and the Magic Lamp, The Wizard of Oz, and, in this case, Alice in Wonderland.
The show, called And Alice Dreams. . . , was held in Loyola's F.C. Smith Auditorium, and was seen by about 1,400 people, including many schoolchildren, at four performances in mid-June. The university provides housing for the Centre in a duplex just off the Loyola Campus, where it operates two-and-a-half days a week.
Several years ago, the venture received a $60,000 Seagram's Grant for Academic Innovation, and the university has provided funding for the coming year. However, Professor Stephen Snow, the director, would like to see regular funding and a major endowment.
He hopes the Centre will be able one day to operate five days a week, and expand its activities to include other special populations, such as children with disabilities and teenagers in distress.
Producers at CBC's flagship public affairs program, the National Magazine, were so impressed by Alice that they have made a 22-minute documentary, to be aired sometime this fall.
Quebec has an increasing number of scholar-practitioners of creative arts therapies. On October 20, 21 and 22, Concordia's Oscar Peterson Concert Hall will be the venue for an academic conference (Conférence des thérapies par les arts), under the title Convergence. Workshops will take place on such subjects as Family Attunement Through Creative Arts Therapy and The Unconscious and the Natural World.