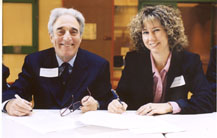 CUSSU contract signed
At a lunch for union members in the J.W. McConnell Atrium recently, Rector Frederick Lowy and union president Di-Anne Robin signed the latest collective agreement between the university and the Concordia University Support Staff Union (CUSSU). It runs from July 13, 2000, to August 31, 2002.
---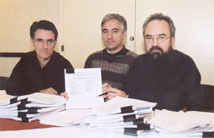 CULEU contract signed
A collective agreement that extends to February 2003 has been signed between the university and the Concordia University Library Employees Union. Seen above at the signing on October 17 are, from left, Ciaran Hopkins and George Brunetti, negotiators for the union, and Robert Black, CULEU president.
---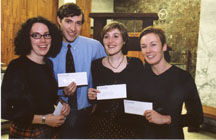 Winning student journalists
Every year, The Gazette gives cash awards to promising students taking the Journalism Diploma, an intensive one-year program for students who already have undergraduate degrees in other disciplines. This year's winners received their prizes at a reception in the lobby of the Montreal daily, where they had a chance to meet senior Gazette staff.

From left to right are Wendy Fletcher, a native of British Columbia who has a degree in environmental biology, and Andrew Ross, who studied political science and history and just became a father; they won the Susan Carson Award, named for an outstanding Gazette reporter and humanitarian.

Next to them are Marie Valla, who has a degree in Canadian history from a university in France, and Alyson Grant, who has a Master's in English and teaches at Dawson College. They won the Philip Fisher Award, named for a former publisher.
---
U.S. policy in Middle East denounced
Security was tight but tempers remained calm as about 600 people listened to former US congressman Paul Findley denounce Israel and American foreign policy.

The speech was held October 13, the day after the Palestinian mob lynched two Israeli soldiers and Israel launched air raids against Palestinian targets in the West Bank and Gaza.

His lecture was organized by a group called Solidarity of Palestinian Human Rights, and he was introduced by Canadian Senator Marcel Prud'homme. The crowd gave both speakers a standing ovation.

History Professor Stephen Scheinberg, an active member of Montreal's Jewish community, said later, "I understand that Palestinians and Jews in Canada or America are angry, and want to express their views and affect government policy."

Nevertheless, he added, the two sides must take the time to calm down and struggle to achieve peace.

- Eun-Joo Jung
---
Canada Council for the Arts
Call for nominations for:

• The 2000 Canada Council for the Arts Molson Prize, worth $50,000 tax free. Each year, one is awarded in the arts and the other in the humanities and social sciences.

• The 2001 Killam Prizes, worth $100,000 tax-free (an increase from $75,000). One is awarded in each of the natural sciences, health sciences and engineering.

• The 2001 John G. Diefenbaker Award, which allows a distinguished German scholar to come to a Canadian university for up to one year to work on a specific research project.

Candidates must be nominated by others. Deadlines: Killam, November 1; Molson, December 1; Diefenbaker, December 1. For more information, please call Carol J. Bream, (613) 566-4414 (5041), Carol.Bream@canadacouncil.ca or consult www.canadacouncil.ca
---
Technology Transfer Officer
Call for applications

Concordia University's Office of Research Services is seeking a bilingual individual for the position of Technology Transfer Officer. You will be responsible for promoting the early stages of the technology transfer process, promoting the importance of sound intellectual property management to the university community, and working with Corporation Valorisation
Innovation Plus (VIP), a company created recently with provincial government support.
One of the mandates of the Office of Research Services is to receive declarations of invention from Concordia researchers and to act in support of their commercialization, as appropriate, most frequently via licensing.

Your major focus will be to identify potentially valuable intellectual property at an early stage, in collaboration with faculty members, and to build the dossier for action by VIP.

You have a graduate degree in a science discipline, general understanding of the protection of intellectual property and its timelines, of licensing and other technology transfer issues. You have experience working with the private sector, coupled with technology and marketing skills. You possess strong interpersonal and communication skills, and you are computer literate. Spoken and written bilingualism is essential. This full-time position is supported by a grant from the Natural Sciences and Engineering Research Council (NSERC). It is a contractual position, with renewal according to availability of funds.

Please send your résumé to the attention of the Director, Office of Research Services, Concordia University, 1455 de Maisonneuve Blvd. W., GM-1000, Montreal, Quebec, H3G 1M8 or Fax to (514) 848-4290. Please note that only candidates selected for an interview will be contacted.
---
Want to study abroad?
MEQ Student Mobility Bursary

This new bursary from the Quebec Ministry of Education provides funding for undergraduate or graduate students wishing to complete a portion of the academic program in an educational institution in another country or province.

To be eligible, the student must be a Quebec resident, registered at Concordia as a full-time student, have completed 24 credits towards their degree (graduate students, eight credits), and be in good academic standing.

Applications are now available for the winter term, starting January 2001, from your Undergraduate Student Affairs Office or Graduate Program Director. Deadline: October 31.

For more information about this bursary or the International Student Exchange Program, please call the Centre for International Academic Co-operation, at 848-4987, or e-mail ciac@vax2.concordia.ca