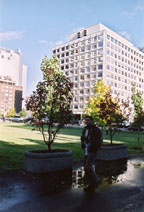 The site, looking toward the corner of Guy and de Maisonneuve

by Barbara Black

Members of the Faculty of Commerce and Administration have had a while to think about their wish-list for a new building, so they were ready when they met with the architectural firm that has been working with the university for the past two years.

The internal phase of the Faculty's building campaign was launched on October 17 with a presentation by the CIM Group, the architectural firm who were hired to work on the master space plan for the entire university. This preliminary work is an important element required for the architectural design competition, whose result will be announced before Christmas.

As Professor Bakr Ibrahim explained to 40 or so faculty and staff, six months of work by a task force had gone into this programming phase of the project. It involved analysis of the current facilities in the GM Building, many interviews with the users, and the collection of data about government norms, electronic needs, curriculum, security requirements, projected enrolment, traffic patterns and other issues.

The new Commerce building, slated for the now-empty southwest corner of Guy St. and de Maisonneuve Blvd., will be a spacious 11-storey building with plenty of natural light and an underground link to the Guy Métro station.

The highest-traffic areas (undergraduate classrooms and common areas, snack bars, lockers, student associations and advising) will be at the lower levels, with the floors above dedicated to graduate students, the four departments of the Faculty, and the dean's office.

Several members of the Faculty pointed out the need for rooms to hold events, from a large hall for major events to a well-equipped room in which about 50 people could both attend a talk and have refreshments. One professor said that George Washington University, in Washington, D.C., has a big room where nationally televised political debates are held, resulting in coast-to-coast publicity for the university.

Others talked about the Faculty's need for a defining image, a recognizable face.
"McGill has its gates, the Université de Montréal its big tower, and UQAM has the [converted tower of a] church," said one professor. "I hope we do a good job."

Interaction was another point of discussion. While the planners and architects are obviously being careful to address the Faculty's own culture, one speaker said, that might simply perpetuate the practice of keeping departments isolated from one another.
Another professor said that the layout of the Haute Études Commerciales building encourages students to work together, "and they love it." But, he added, "it's hard to meet people [i.e. faculty members] from other departments."

Long-awaited recreation facilities will be built below ground level in the new Commerce building. One professor couldn't resist asking, to a round of laughs and applause, "Where's the pool?"
---
Financing of new buildings depends on us
The architectural design competition has already begun for the new downtown buildings. The jury is in place, and five competing firms have been selected.

Rector Frederick Lowy said he hopes that construction will begin within a year on all three buildings, but this will depend on response to the fundraising campaign that has just been launched.

In a presentation on October 17, the Rector bluntly reminded members of the Faculty that the response from Concordia's faculty members to the recent capital campaign had been poor — only 24 per cent, compared to 32-per-cent participation by staff.

He said that ideally, every faculty member should be able to contribute $1,000 to the building campaign, and some could afford considerably more. "However, I want to see 100-per-cent participation, of whatever you can give," he said.

Vice-Rector Marcel Danis added that when the senior administration goes out to solicit potential donors, "the first thing they want to know is, How much did your faculty give?"
Businessman Richard Renaud, who is vice-chairman of Concordia's Board of Governors, a Loyola grad, and a tireless volunteer for the university, talked about the real goal of all this fundraising activity: the students of the present and the future. He read part of a touching letter sent to him and his wife Carolyn in gratitude for one of the many $2,000 entrance scholarships they have provided.

Dean Mohsen Anvari said that exhaustive academic planning had been going on since last January. The Faculty is looking at excellent growth opportunities, but struggling with inadequate classrooms. The Guy Metro Building, where the Faculty is presently housed, was built some 40 years ago as a conventional office building, not with wired classrooms and student common rooms in mind.

"Our goal is to build a first-tier business school in the next five years," Dean Anvari said. While the Faculty has received a generous donation from a single donor that provides a real jump-start to the campaign, he added, "it is contingent on our having a new building."
The fundraisers intend to build up the fund of the Concordia University Foundation so that it will be able to secure and maintain the financing of construction.

Current cost estimates for the three buildings being planned in the first phase of the master plan are that the science building for the Loyola campus will cost $64 million, the Engineering/Fine Arts complex downtown will cost $82 million, and the Commerce building will cost $55 million (including the recreation facility, tunnels and classrooms).

- BB