The Hon. Paul Martin, Minister of Finance
talks about globalization

Friday, October 20
7 p.m.
H-110, Henry F. Hall Building

There will be simultaneous translation, and this event will be filmed and webcast.

---
Concordia University Research Fellow
Michel Laroche, FRSC
Professor of Marketing

on
"Culture in Consumption"

Monday, October 30
4:30 p.m.
Faculty Club, H-767
---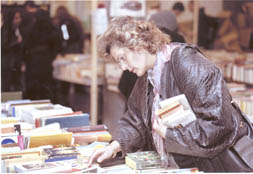 Books for bucks

The Concordia Volunteers' Used Book Fair raised $6,079, thanks to the efforts of an army of people led by Barbara Barclay, Susan Hawke and Helen Eng. Thanks should also go to Ken Bissonnette, from the Bookstore, for helping to organize cash transactions.

The sale took place over two days on the mezzanine, and was always busy. All proceeds are donated to Campus Ministry's Student Emergency Food Fund to provide short-term emergency assistance to students.

The organizers want to thank everyone who donated books — by the thousands. Those that were left over from the sale are being resorted, packed, sent to schools and vendors outside the city, or kept over for next year's sale.
---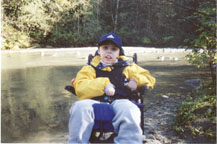 Golfing for Massimo

Bookstore employees John Fiorilli and Ken Bissonnette would like to thank Sylvie Lacelle, manager of Sodexho-Marriott at Concordia, for providing refreshments at the second annual Massimo Fiorilli Golf Tournament. They would also like to thank their union, CUSSU, for a contribution.

The tournament raised $12,000 to provide Massimo Fiorilli, who is John's son and Ken's nephew, with treatments that are not covered by medicare.
Massimo, who is nine years old, was born healthy, but at the age of four developed a medical problem that so far defies diagnosis. Breathing pure oxygen in a hyperbaric chamber seems to relieve his symptoms. Quebec does not have these facilities, and so Massimo has been taken several times to Ottawa and Vancouver for the therapy.
---
Science College lecture
Dr. Eric Feigelson

"The Violent Universe:
Early Results from the Chandra X-Ray Observatory"
Thursday, October 19
8:30 p.m.
Room H-110, Henry F. Hall Building
---

Canada Council for the Arts
Call for nominations for:

The 2000 Canada Council for the Arts Molson Prize, worth $50,000 tax free. Each year, one is awarded in the arts and the other in the humanities and social sciences.

The 2001 Killam Prizes, worth $100,000 tax-free (an increase from $75,000). One is awarded in each of the natural sciences, health sciences and engineering.

The 2001 John G. Diefenbaker Award, which allows a distinguished German scholar to come to a Canadian university for up to one year to work on a specific research project.

Candidates must be nominated by others. Deadlines: Killam, November 1; Molson, December 1; Diefenbaker, December 1.
For more information, please call Carol J. Bream, (613) 566-4414 (5041), Carol.Bream@canadacouncil.ca or consult www.canadacouncil.ca