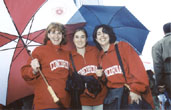 Nadia Magliano, Patricia Posius and Alison Noftall pose on McGill College St. at the start of the Marche des Milles Parapluies, the launch of MontrealŐs Centraide campaign on October 4. There were 8,000 people there, whole contingents from companies and institutions, but only six employees from Concordia.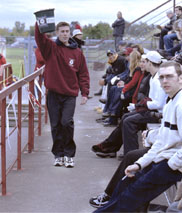 Athletics employee Jacin Lapointe (above) collects for Centraide at last SaturdayŐs game (below), where Rafael Borja, stepson of Patricia Posius, gave the ball a good boot to launch ConcordiaŐs appeal. The Stingers game against national champions the Laval Rouge et Or was televised by RDS. Concordia gave a good fight, but lost 29-27.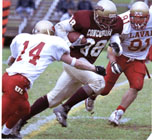 ---
Prizes for giving!

A raffle is being held every week during the Centraide Concordia campaign, and the sooner you get your pledge in, the better your chances of winning.

The first draw is tomorrow at 3 o'clock. Regardless of whether you win, your name goes back into the pot for the other prizes.

Here are the prizes for tomorrow draw: a Concordia sweatshirt, dinner for two at Winnie's Pub, a coffee calling-card gift pack, a museum of Fine Arts gift pack worth $75, and a Sony audio stand worth $150.

Time to give something back

If you're a Concordia employee, you should have received your pledge card in the mail by now. Consider this: a pledge of just $1 a paycheque — the cost of a cup of coffee — could buy breakfast for a child in inner-city Montreal, or a game to keep a troubled adolescent off the streets. Even a pledge of $5 a paycheque comes to only $130 for the year.

Concordia has about 50 volunteer canvassers who will be prodding you gently to be generous in the coming weeks. Some have come up with ideas of their own. Frances Weller, in IITS, has the co-operation of her boss, John Woodrow, to hold a pizza party one day at lunchtime, with the proceeds going to Centraide.

It is difficult to get this message out to students, but they have big hearts. If you have contact with student groups, let them know about the Centraide campaign.

Don't forget about Squeegee Day, October 19, when Patricia Posius, Ann M. Bennett, and their friends will offer to clean your windshield — or not clean it — in exchange for a donation.

---
Community action makes all the difference
by Andrew Mefferd

Centraide centralizes fundraising for organizations that improve the quality of life for the most vulnerable members of our community.

Centraide of Greater Montreal raised more than $34.7 million in its 1999 campaign; $43,266 of that was from Concordia employees, mainly through paycheque deductions through the year.

More than 300 organizations are supported by Centraide grants. Here are some examples:

Reaching out
"We provide medical, social, and legal services and recreation to youths of diverse communities," said Maychai Brown, interim director of Head and Hands, the community agency in NDG.

The teen drop-in center has after-school programs and recreation, including camping in the summer and trips in the winter. "On the other hand, our young parents program draws people in their early twenties, and mothers with young kids."

A medical clinic is held at Head and Hands three times a week for local people. "They come because of the amount of time the nurse can give them. We like to have the nurses really talk to the clients in a private, non-rushed environment. Our approach is preventative, holistic, non-judgmental, and respectful of the individual."

A refuge for women
Chez Doris is a refuge for women in any crisis situation. "[Our clients] might have serious problems, or just be alone," said Christine, a crisis prevention worker at Chez Doris. "Here, they have people to be around."

Chez Doris provides two meals a day, clothing, a computer and someone to talk to. "If we see somebody go down the wrong path, we try to prevent it," Christine said. "We may refer them to CLSC, hospitals, or social workers."

A doctor visits Chez Doris once a week, and there's a legal information service. Christine said that the camaraderie is unique.

"There are so many people from all walks of life here — nobody judges anybody else. It's special. The people may not have a whole heck of a lot, but they help those who have less."

1, 2, 3 Go!
The Côte-des-Neiges location of 1, 2, 3, Go! is one of six branches of a community initiative to serve families with infants in Montreal. "We mobilize the community around children and work as closely as possible with the parents, because they are the first people to know the needs of their children," said coordinator Jocelyne Martin.

1, 2, 3, Go! takes a preventative approach to improve the community around little children. They can refer a family to public services they need but were not aware of. All of the funding comes from Centraide.

Martin said, "A lot of kids in CDN are refused when they start school at 4. It's not because they're not bright enough. Nineteen per cent of the population are allophones, and these kids are behind in language development, so they need stimulation." Their families are given information on parenting, and medical and legal rights.

"All the children deserve an equal chance in life. The first years are very important," Martin said. In an effort to be close to the families they help, 1, 2, 3, Go! rents a duplex in CDN. "It's important that we are here; there is no other outreach organization around here. Families tell me it's like home."