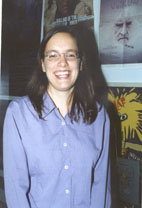 Isabelle Thivierge, who is in her third year of the Traduction (Translation) program, said, "Being francophone doesn't change much for me. In my department, I have almost no courses in English. If anything, I came to Concordia hoping that I would have the chance to practise my English, but that hasn't happened as much as I would like!"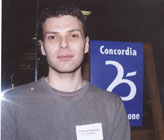 Christophe Ryneczko, who is in his final year of the Traduction program, said "After I completed a Master's in English at McGill, I looked around for a good program in translation, and Concordia seemed to offer the best. Being French has been an asset, and my experiences in this respect have all been positive. I really appreciated the co-op aspect of the program." Co-op gives Ryneczko a chance to alternate working as a translator with terms of study.

by Caroline Plante

They are a minority within a minority, yet professors and administrators alike say the francophone presence at Concordia is enriching, even essential.

Francophone students make up about 30 per cent of Concordia's Faculty of Fine Arts, at least 25 per cent of the School of Community and Public Affairs and 25 per cent of the Communication Studies Department.

"If we didn't have francophones at Concordia, it would be a disaster, a huge disadvantage for us," said Communication Studies Professor Dennis Murphy. "In production classes, francophones bring new and interesting perspectives, new ways of criticizing material."

French-speaking students seem to number at least 15 per cent of the student population at Concordia, anglophones and allophones making up the rest. Danielle Morin, Associate Dean for the Faculty of Commerce and Administration, thinks that number will grow in the next few years. Already, she has noticed a slight increase in the number of francophone students being accepted in the business programs each year.

"Last year, we accepted 171 francophone students, but this year we accepted 193. I think that in the future there will be more and more francophones at Concordia because they need to learn English. The international business world is dominated by English, so to be in a good position, these francophonestudents need to be fluently bilingual," Morin said.

Since her arrival in the Faculty five years ago, Morin has beefed up French content by making sure departmental services could be provided in English and French. She has also initiated a voluntary two-week orientation program for incoming francophone students called Faire le Grand Saut!"

"We give them intensive [business] English lessons and we play business jeopardy," Morin said. "We also encourage all our students to learn Spanish." However, Commerce and Administration does not offer courses in French.

The Faculty of Fine Arts operates in both languages. "We do have courses that are taught in French," said Dean Chris Jackson. "We offered a French art history course because everybody in the class spoke French. But the number of courses we teach in French varies from year to the next."

Jackson acknowledges that if one student speaks English and the other 25 speak French, the anglophone's rights are predominant and the class will be taught in English.

Murphy recalls a class he was teaching 10 years ago in which a francophone student, knowing that her teacher spoke French, asked a question in her mother tongue. Murphy remembers answering her in French. But one student, terribly upset that the class had turned to French, stormed out of the room. "He was enraged, and yelling, "This is an English institution! It had never happened in one of my classes before," Murphy said.

One reason the number of francophone students at Concordia is growing is the high number of French-speaking international students that we accept. Many of those students come from Europe, since Europeans are increasingly being pushed to go study abroad in order to learn English.

In fact, the highest proportion of international students come from France, said Fred Francis from Concordia's Centre for International Academic Co-operation.

"There is an agreement between Quebec and France which states that students who choose to complete their degree abroad are not charged extra for being international students," he explained. Thus, international students from France pay lower tuition at Concordia than students from Ontario or British Columbia.

"Our university is very open culturally, ideologically and linguistically," said Daniel Salée, principal of the School of Community and Public Affairs. "We have adapted well to the reality of a modern Montreal, a multicultural Montreal." To be accepted into the School of Community and Public Affairs, students must be bilingual.