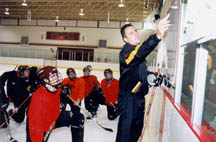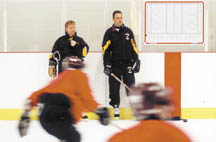 Head coach Kevin Figsby and assistant coach Sergio Momesso at a Stingers hockey practice last weekend.

by John Austen

After toiling for 13 seasons in the National Hockey League and three more playing in Europe, Sergio Momesso decided to hang up his skates — and head to Concordia University.

Momesso, a native Montrealer, is now an assistant coach for the Stingers men's hockey team, working closely with head coach Kevin Figsby. It's Momesso's first foray into coaching, and Figsby says he's learning fast.

"He could easily be a head coach somewhere next year, if he wants," said Figsby, who is in his first full season coaching at Concordia. "The players look at Sergio and he's respected, because they know he's played the game at a high level. They have total confidence in him."

Momesso began his playing career with the Montreal Canadiens in the 1983-84 season. He also played for the St. Louis Blues, Vancouver Canucks, New York Rangers and Toronto Maple Leafs. Known as a rugged and hard-working player, Momesso scored 152 goals and added 193 assists in 710 regular season NHL games. He also amassed 1,557 minutes in penalities.

In 1997, he continued his professional career in Europe, where he played in Cologne, Germany, for three seasons.

"The first two years, I had my family with me over there, but last season I went by myself, and it was tough," said Momesso. "It was great playing there, but I made the decision to come back to Montreal. I wanted to stay involved with hockey, and my friend Herb Madill suggested I phone Kevin and ask if he needed an assistant. We met a few times and it worked out. I'm loving it so far.

"I wanted to teach guys that were old enough to understand systems," he continued. "University hockey is the perfect level. At first, I basically sat back and watched, but now, I'm getting my feet wet and getting to know everybody. Kevin has let me run a few practices."

Momesso, who lives in Kirkland with his wife Noella and their three small children, says he wants to be a tough but fair coach.

"I've played for a lot of different coaches who had different styles, like Mike Keenan, Pat Burns and Jean Perron," he said. "If you yell at players all the time, you won't get too far. That act will wear thin. The players basically know when they make a mistake. It's my job to suggest what they can do better, and encourage them.

"I'm not there to step on anyone's toes," he continued. "I'm there to help Kevin. He's a good coach, and I think this team can win. We can beat the teams I've seen so far."

The Stingers have played well in their first four games, despite winning just two of them.

"We've had a few injuries, and they've happened away from the rink," said Figsby. "In one week, we had two players involved in car accidents. Thank God they weren't serious injuries, but they were enough to keep players out of the line-up. I jokingly told the boys that maybe Sergio and I should drive the players to the games ourselves just like Atom coaches do."

The Stingers have a pair of important home games this weekend. They host the McGill Redmen Friday at 7:30 p.m., and then the Ottawa Gee-Gees are in town Saturday for a 2 p.m. start. Both games will be played at the rink on the Loyola Campus.

---
Jean Béliveau at Loyola tomorrow night

Jean Béliveau, the former Montreal Canadiens great, will join the Concordia Stingers men's and women's hockey teams and the Friends of Concordia Hockey Alumni at a special ceremony to retire Maurice Richard's No. 9 at the Ed Meagher Arena, 7200 Sherbrooke St. W., on Friday evening.

Three sweaters, all with the famous No. 9, will be hoisted to the ceiling; a Canadiens jersey, and two Concordia sweaters, representing both the men's and women's teams. Richard, a hockey icon, died last May.

Béliveau played centre for the Canadiens during the glory years of the 1950s and '60s. Retiring from on-ice action in 1971, he went on to a successful career in the Habs' front office and continues to act as a hockey ambassador. He will be joined at the ceremony by Jean Richard, Maurice's youngest son.

Following the ceremony, the men's team will battle its cross-town rivals, the McGill Redmen. The faceoff will take place at 7:30 p.m. Tickets for each game will be available at the door.