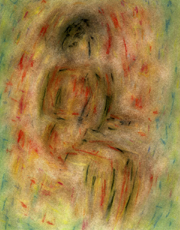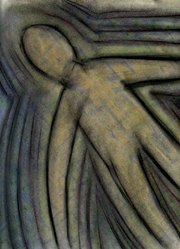 Pastel drawings by Robert Craig, illustrating his impressions of individual frames in Stanley Kubrick's 2001: A Space Odyssey.

Robert Craig has been an instructor in Concordia's Mel Hoppenheim School of Cinema and is now a candidate in the PhD in Humanities program. This is an abridged version of a paper he gave recently called "Truth is a Medium: Presence, Absence and the Poetics of Technology in Internet Education." It was given in Abu Dhabi, United Arab Emirates, at an international conference called E-ducation Without Borders.
---

by Robert Craig

Not long ago, I found myself in circumstances that would have been difficult if not impossible to contemplate five or 10 years ago. Accompanying an online article I had published in an Australian Internet journal called The Animist was a series of pastel drawings I had made illustrating my impressions of individual frames in Stanley Kubrick's 2001: A Space Odyssey.
Shortly after they published it, I directed my browser to the journal to see how everything had turned out.

Looking at the warm, languid glow of my pastel drawings on the screen, I experienced a strong sense of spatial disorientation.

I knew that others would see these same drawings on computer monitors in other places where I have never been and never will be. As I placed the drawings side by side with the monitor, I noticed the difference.

The "aura" of a work of art

On the one hand the sweet fragrance of pastel chalk and the intensity of the colours on paper. It made me think of what Walter Benjamin referred to as the "aura" of a work of art. On the other hand, the muted charm of the flatter colours on the video monitor. In one way, the images were the same, and in another way, they were different.

Just like my sketches, as humans on the Internet, we are here and we are elsewhere.

To appreciate Kubrick's film, I do not need to hold the celluloid in my hand or be in the presence of the director at work creating the film. On the other hand, how I experience this film will vary a great deal if I watch it on a large screen projected at 70mm with Dolby sound or on a 12-inch video screen with a two-bit speaker.

Other media have confronted this problem of presence of absence, or absence of presence. Recorded music, radio and television and even the printed word are all media that have been mastered in various ways and used to great effect despite spatial and temporal ruptures.
Whether we like it or not, as students and educators, the future of Internet education forces us to confront education as a medium and as presence and absence.

As Internet students, we no longer share the same space and time as our educators. They will not sense our passion for knowledge and thought in the same way as if we sat before them in their classroom. As Internet educators, we cannot gauge the interest and comprehension of our students by looking at their faces and into their eyes.

New strategies for Internet educators

I do not mean to imply that Internet education will necessarily erode the quality of education. I only mean that developing a high standard of Internet education will require new strategies and approaches that are medium-specific.

We are now in a period that is analogous to the era in cinema prior to D.W. Griffith and the institutionalizing of the classical Hollywood narration. In other words, we have not yet established the rules of the game and the basic structure of the narrative.

In the years before Griffith, entrepreneurs showed short films accompanied by magic lantern shows, lectures by animators and other forms of performance such as dance and song. Those early years were an exciting, vibrant period in the history of film exhibition. We know what a banal ritual of consumption most cinema has become today.

As with cinema, repetitive formulas and institutional routine will take over Internet education (for the most part).

Nevertheless, we are now in an exciting formative phase, analogous in some ways to the early years of cinema.

As pioneers, we can work creatively with open minds to shape the future of this new medium of education.

If we can electronically communicate and teach and learn across continents in a subliminal wink of the eye, we can surely do so in ways that are liberating and enriching for the human mind and spirit.