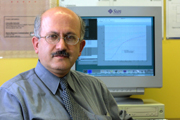 Reza Soleymani is developing advanced coding techniques for transmitting multimedia information via satellite.

Photo by Andrew Dobrowolskyj

by Janice Hamilton

Reza Soleymani, an associate professor of Electrical and Computer Engineering, is leading a joint university, government and industry research project aimed at developing advanced coding techniques for transmitting multimedia information via satellite.

"Using the most advanced modulation and coding techniques, we want to develop new transmission schemes that require less power, and, at the same time, that can accommodate more users," said Soleymani in an interview.

"By achieving higher transmission efficiency, the technology aims to lower the cost of transmitting voice, data and video over satellite for both business and residential applications."
The project is part of a new space communications research program launched last month by the Canadian Space Agency (CSA) and the Canadian Institute for Telecommunications Research, a non-profit research institute and member of the federal government's Networks of Centres of Excellence Program.

Soleymani's group has been awarded $600,000 over three years. This includes $390,000 from CSA and $210,000 from industrial partner NSI Communications Inc. In addition to the cash contribution, NSI will make in-kind contributions.

Along with principal investigator Soleymani, the team includes Amir Khandani, University of Waterloo, John Lodge, of the federal Communications Research Centre, Concordia's Asim J. Al-khalili, and Fabrice Labeau, of McGill University.

Most of the grant money will be put towards salaries for graduate students. "We will be training at least 10 students a year for three years," Soleymani said. "We will try to manage with a minimum of extra equipment, and our industrial partner will help keep non-labour costs low."

Immediate applications for industry

The leading-edge research undertaken in this project will provide students with opportunities for Master's and PhD-level theses and publications, and the results will have immediate applications for the communications industry.

Gregory Peckover, vice-president of Strategic Development at NSI Communications, of Pointe Claire, explained that his company will have the right to use and license the technology that is developed. His company provides satellite communications services primarily to commercial customers and small businesses.

This project is designed to find solutions to several problems, said Soleymani, including the need to reduce the power required for satellite communications. Reducing power is difficult because the most efficient satellites are located 36,000 km above the Earth's surface, where they move at the same speed as the Earth, effectively staying in one place. The other major challenge is to keep up with the growing demand for a limited resource: bandwidth. Bandwidth refers to the speed at which information can be moved.

The researchers' task will be to develop transmission schemes based on advanced error-control coding schemes, such as Turbo Codes. Peckover gives the analogy of an envelope addressed in extra-large print to make sure it reaches its destination. Coding is a method of adding extra data to a satellite transmission to help the recipient decipher the message.

The researchers will look at performance (expressed in terms of bit error rate and sensitivity to various sources of impairment) and practical questions such as how to integrate the technology into commercial satellite systems.

The first step will be to develop algorithms. Peckover describes an algorithm as "a recipe to figure out whether there is an error in a message, and how to fix it." The second part of the project will involve designing, implementing and testing the circuitry for these algorithms.

Peckover, who met Soleymani when they were both working at Spar Aerospace (now EMS Techologies), describes him as a leading Canadian researcher in the field of digital communications theory. Professor Soleymani worked at Spar between 1990 and 1998, meanwhile teaching part-time at McGill and Concordia. Prior to that, he taught at McGill. He returned to full-time university teaching in 1998 at Concordia.