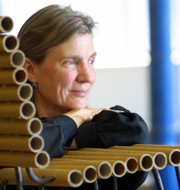 This chair, designed by third-year student Sidney Kristianson, is a "most ingenious design," says Dr. Sharman. The frame is made of two bent steel rods. The seat and back are cardboard tubes threaded onto the frame. There is no gluing or fasteners and the chair can be taken apart and reassembled.

Photo by Andrew Dobrowolskyj

by James Martin

The testimonials in support of Lydia Sharman's winning nomination for the Faculty of Fine Arts Distinguished Teacher Award were wide-ranging, but almost all singled out how her personal experiences enrich the classroom.

For someone whose early years were shaped by progressive, vegetarian Quakers, this comes as no surprise. "I think I have a fairly unusual profile," she said in an interview.

In 1957, freshly graduated from London's Central School of Art and Design, Sharman was thrust into the working world when one of her student designs, a molded plywood chair on a metal base, was bought and put into commercial production. She would spend the next few years working in design offices in London and New York, before moving to Montreal.

Many artistic contributions to city

In the early 1960s, the Canadian design industry was coming into its own. Sharman was heavily involved with two of the city's crowning design achievements, Expo '67 and Place Ville-Marie, and did design work on the head offices of the Aluminum Company of Canada and the Morgan Trust Company. She also wrote extensively about Canadian design for European journals and curated international exhibits.

She co-founded the Protestant School Board of Greater Montreal's successful FACE school (Fine Arts Core Education), in part an effort to give her four children the kind of progressive atmosphere she enjoyed at her own Quaker school. The bilingual, eclectic downtown FACE is still thriving under the English Montreal School Board.

She wrote The Amazing Book of Shapes, a children's book that has been translated into Dutch, Greek, German, Hebrew, Catalan and Castilian, and earned a PhD from the Royal College of Art.

Dr. Sharman's philosophy of education is based on balance and integration. She is a passionate advocate of "providing a full, generous, and appropriate education, while creating a bridge to the community beyond the university."

In Concordia's Design Art program, students learn two-dimensional, three-dimensional, and media design. Sharman says her experience as a design practitioner contributes to her strong belief in Concordia's conceptual approach to design. In the workplace, a designer must call on a variety of skills. "The Italians don't have any problem being architect, artist and graphic designer, all in one person."

She is also, by her own admission, "a big documenter," who has boxes of photos and slides awaiting organization. This packrat side of her personality highlights the pride she feels for her students' work, and the joy she gets from teaching.

She showed off some of the research books she has her students create, and talked about their successes. There's the one who was invited to exhibit a chair design in London, and another who designed the children's furniture for the Greiche & Scaff optician stores.

There are photos of a camping trip, in which her class field-tested their designs for portable shelters built mainly from recycled materials in minus 10-degree weather.

Dr. Sharman is especially proud of the young women Design Art students, and tries to be their mentor.

"It was exceptional for a woman to be in this profession in the 1960s, 70s and 80s, and it's still unusual today," she said.

"I just love to see that expression on their faces when they first see one of their own three-dimensional designs brought to fruition. They've done all the drawings, made the maquette, and gone through the process of making, say, a chair—and there it is!"

Dr. Lydia Sharman will receive the Faculty of Fine Arts Distinguished Teacher Award at spring convocation on June 12. She has also been nominated for the 3M Teaching Fellowship Award, to be announced in July.