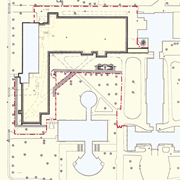 A plan of the construction site at Loyola: the new science complex is depicted in yellow; existing buildings are in blue. The red dotted line represents the construction fence.

by Barbara Black

Construction is starting on the site of the new science complex on Concordia's Loyola Campus. Very soon, an eight-foot construction fence is going up around the site, enclosing the Bryan Building and the adjacent parking lot.

The fence will help keep the dust down, and construction workers will periodically clean the area. The fence should also help muffle the noise of trucks, which will enter and exit the site from West Broadway to Sherbrooke St.

The existing parking lot near the Bryan Building will be temporarily relocated behind the TJ Building, the performance arts annex at 7315 Terrebonne St.

By the first week of June, the occupants of the Bryan Building (the Communication Studies and Journalism Departments) will be relocated to Hingston Hall and the Central Building for at least three years, after which they will be permanently relocated in the refitted Drummond Building.

Excavation is expected to take place June through July, and by mid-August, workers should be pouring concrete foundations for the new building. The excavation company, L.A. Hébert, plans to work through the traditional mid-summer construction holiday. They will work Mondays to Fridays from 7 a.m. to 5 p.m.

The new science complex is projected to open in September 2003. It will house the natural science departments, the Centre for Functional Genomics and the Centre for Research in Molecular Modelling, as well as a major part of the Psychology Department.

A newsletter is being planned to keep area residents informed about the construction project. Webcams will follow its progress from the top of the Drummond Building and the Central Building; they will be linked to the university's Web site devoted to the new buildings, at http://buildings.concordia.ca/. A listserve for departments located at Loyola will keep them abreast of developments.

If you have queries about the project, please contact Eugenia Xenos, University Web site coordinator, at exenos@alcor.concordia.ca or 848-4279. Ann M. Bennett, Assistant to the Executive Director of the Rector's Cabinet, will have special responsibility for keeping in touch with our Loyola neighbours. She can be reached at amb@alcor.concordia.ca or 848-4851.


---
You are invited to the Official Groundbreaking of the Concordia science complex on Friday, June 15, at 11 am, on the Loyola Campus. Join the Chancellor, the Rector and senior administration, members of the Board of Governors, the Arts and Science Building Fund, the Arts and Science Advisory Board, the Jesuit community, Alumni Association boards, donors, architects, contractors, government representatives and your friends and colleagues in celebrating this wonderful new project.