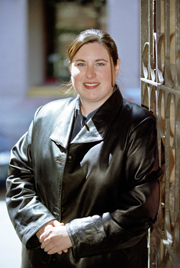 International student recruiter Josée Labrosse enjoys meeting teenagers and their families from around the world, but says she gets few chances to play the tourist. Educational fairs are usually held in bland concrete stadiums, and "a hotel room is a hotel room."

Photo by Andrew Dobrowolskyj


by Barbara Black
In her own way, Josée Labrosse is a member of the jet set. As an international student recruiter for the Faculty of Arts and Science for the past year and a half, she has been to Turkey, Greece, Italy, Mexico, Chile, Argentina, Venezuela, Colombia, Denmark, Norway and Sweden.

This week, she's in Beijing for the first time, attending a science fair for graduate students with John Capobianco, Vice-Dean of Research and International Relations.

"You have to like to travel on your own, and it helps to have sense of orientation," she said. "In Turkey, it took me four taxis to get to the school I was going to, because every taxi dropped me at a different one!"

Josée's trips are usually scheduled to coincide with educational fairs and events organized by the Canadian embassy, and she tries to visit local schools at the same time.

She is the first occupant of her job, and although it is also her first job in the international marketplace, she has been well prepared.

She has a degree in political science from the University of Ottawa, honours international relations with a concentration in Italian. As well as speaking English and French, she is also fluent in Italian, thanks to a student exchange when she was 16, and she is picking up Spanish.

Josée worked in Admissions as part of a work-study program and as a University of Ottawa Student Ambassador, and after graduating in 1996, became a full-time domestic recruiter. She travelled across Canada, first for the University of Ottawa, and then for the Université de Montréal.

It gave her an opportunity to compare recruiting styles. Outside Quebec, they're big on school spirit, and a residence is a priority. In Quebec, by contrast, students tend to be a year or two older because of the CEGEP system, and if they don't live at home, they're in their own apartment.

Similarly, she notices differences among the countries she visits. "In some countries, such as Turkey, you put a lot of effort into talking to the parents, because they're the decision-makers," she said. "In Latin-American countries, it's a family decision. In Scandinavia, studying abroad is 'the thing to do,' and the government pays."

In Colombia, a country plagued by a protracted civil war, drug cartels and crime, Josée and her fellow recruiters were escorted at all times. It was disconcerting, but offset by the remarkable friendliness of the people she met there.

"In most countries, it's an honour to study abroad," she said. "We take Canadian education so much for granted."

While the United States is much better known, Canada is seen as safer. However, she finds that Australian recruiters are much more aggressive, and the British have a strong reputation and many years of experience. "Quebec has come very late into the game," she admitted.

However, she has already learned to play to Concordia's strengths. In the midst of a bilingual, cosmopolitan city, our cultural diversity is reassuring to young visitors.

In most countries she visits, a professional education in business or engineering is favoured, and since she considers herself a representative for Concordia as a whole, she shares all the information she can.

In the Scandinavian countries, however, a liberal arts education abroad is highly prized, so she discovered an unexpectedly rich market for the Faculty of Arts and Science. "And we don't even have to sell them on winter!"

The Faculty privatized international students' tuition two years ago, so it has a strong incentive to increase their numbers, but Josée knows that it will take from three to five years before the results of her efforts can be proven.

Last year, there were 670 international students in Arts and Science, undergraduate and graduate combined. That's five per cent of the student body. Most came from France (138), with the United States (93) not far behind. Other nationalities included Japan, China, Jordan, Colombia, South Africa, the United Kingdom, Mexico and Germany.


---
Recruiting activities at Concordia

There is a trend toward decentralizing recruitment at the university, as the Faculties appoint their own staff to address their own needs and styles, but once a month, the Recruitment Working Group meets to coordinate activity and brainstorm strategies.

The group includes recruiters or their representatives in the Faculties, including Donald Chambers and Josée Labrosse from Arts and Science; Tom Swift, Romesh Vadivel and Julie Hubert from the John Molson School of Business; Nanette Plante from Engineering and Computer Science; and Jean-Pierre Duchênes from Fine Arts.

The group also includes representatives of various stakeholders across the campus, such as the International Students Office, the Centre for International Academic Co-operation, the Centre for Mature Students, the Institute for Continuing Education, Public Relations/ Marketing Communications, the Office of the Registrar and the School of Graduate Studies.

The Working Group meets under the umbrella of the university's Recruitment Office, led by Director Richard Diubaldo. It has three recruiters of its own: Eric Goldner, Jo-Ann Oberg-Müller and Bernard Pomerleau. Maria Ponte conducts student tours.