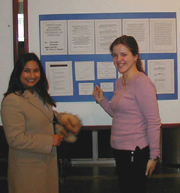 Kaamini Deonaraine (left) and Alexandra Urbanska (right)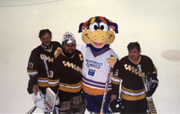 Henry Kovalcik (Electrical/Computer
Engineering), Chris Alleyne (Marketing Communications) and Glenn Weir (Architectural
Maintenance), with the CFCF-12 mascot at the Pierrefonds Arena.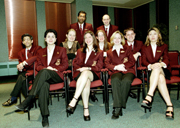 Science College Day at Concordia

Concordia's Science College, which gives promising undergraduate students in the sciences an opportunity to do original research, held a daylong event March 13. It featured poster presentations of student projects and a lecture by a former graduate, Dr. Michel Côté, now a physics professor at the Université de Montréal. He talked about the design of novel materials.

In the photo above, Science College student Kaamini Deonaraine (left) looks at a poster by Alexandra Urbanska (right), who presented a poster with Biology Professor Claire Cupples on "Growth phase dependent mutations of E. coli strain CC107."






---

Staffers trounce CFCF at hockey

The staff hockey team soundly beat the team from Channel 12 by a score of 8-1 on February 24. Glenn Weir got four of those goals — and we hear he's also the fastest wit on the ice.

Above, left to right, staff hockey players Henry Kovalcik (Electrical/Computer Engineering), Chris Alleyne (Marketing Communications) and Weir (Architectural Maintenance) are seen with the CFCF-12 mascot at the Pierrefonds Arena.

The game was held to raise funds for the Alex Laurie Scholarships Fund. CFCF provided support for the event and for the fundraising effort.

Over the season of pick-up games at the Loyola Campus rink on Friday nights after work, and with a boost from CFCF, the team has raised about $1,000 for the fund. There are plans for a bigger fundraising event next season at Loyola.



---
Help Line on the prowl

The IITS Helpline is once again searching for part-time representatives to help people around the university with computer problems.

The Helpline receives 350 to 450 telephone calls a month, and resolves most of these during the first call. The remaining calls are referred to other groups in Instructional and Information Technology Services.

If you are interested in being a Helpline representative, please send a paper copy of your CV to Geoff Selig, Help Line Coordinator, IITS, LB-800, or an electronic version to hl-jobs@concordia.ca.


---

Concordia residence available during summer

"Having a summer conference? Can't stomach having the in-laws stay with you for the weekend? Need space for student visits? Why not have them stay on campus?"

That's Residence Life Coordinator Jeff Peters' pitch for the student residence rooms that will be vacated over the summer.

Hingston Hall, on the Loyola Campus, offers affordable and convenient summer housing from May 15 through August 18. Group bookings are available, but space is limited.

The rate is $15 per night, single occupancy, or $30 per night, double occupancy. Jeff can be reached at 848-4756.



---

Historian Geoffrey Adams honoured by his friends

Lonergan College was the scene of a book-launch and a tribute recently. The tribute was to retired professor Geoffrey Adams, who started teaching at Loyola College in 1962.

"He hired me, and also the virtual core of the Loyola College History Department," Professor Tittler recalled. "It was a department which took teaching seriously enough to have produced three Rhodes Scholars between l967 and l971, and many other fine students prior to the [1974] merger. Geoff inspired us all to the joys and challenges of active engagement in the life of the institution. I am not alone in owing to him the bulk of my career."

Dr. Adams has published two books since his retirement in 1991, and is working on a third.

At the reception, he was presented with a copy of the book being launched, History Professor Robert Tittler's Townspeople and Nation, English Urban Experiences, l500-1640, (Stanford University Press).

Unfortunately, although Dr. Tittler wrote his book in part for use in his course on English Urban History (HIST 369), the course has been cancelled for falling short of the 25-student minimum. "The book will have to be used by students elsewhere," Tittler concluded.


---

Thanks to outgoing Garnet Key

Members of the Garnet Key Society celebrated their year of service to the university at a dinner in the Faculty Club on March 23, and turned over their responsibilities — officiating at university events — to a new group of students. Seated, from left to right, are Raihan Malik, Naheda S. Haijar (administrator), Hélène Cossette (University Protocol/new supervisor), Antonina DiGiorgio (VP finance), Laura Weir, Anita Blaszczak, Travis Chalmers (president), Shafiqa Khadri. In the back are Eric Amboise and David DiLenardo (vice-president). Gordon Starck was not present for the photo.


---
Theft in Bishop Court

A theft took place overnight March 19-20 in Bishop Court, which houses many of Concordia's administration offices. Eleven computer units were stolen, to the value of about $25,000.

Security measures have been increased in the building, and these measures will continue, including the free engraving of ID numbers on request.

About 40 people work in Bishop Court, an historic three-storey building on the southeast corner of Bishop St. and de Maisonneuve Blvd.