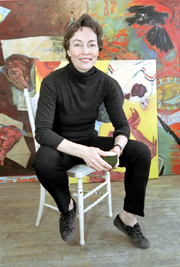 Painter and studio arts lecturer, Michèle Delisle. Below are two of her works.

Photo by Andrew Dobrowolskyj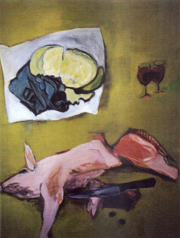 Grande table au cochon, (1999)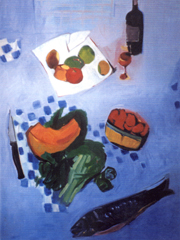 Grande table au poisson (1999).

by Wendy Fletcher

Painter and Studio Arts lecturer Michèle Delisle is the cultural steam-engine behind Arte in Italia, an annual month-long observation drawing course taught every spring in Bolsena, Central Italy.

This six-credit Fine Arts course gives students an opportunity to learn drawing techniques in one of the world's richest cultural centres, and to become acquainted with many schools of art, from ancient Rome through the Gothic and Byzantine periods to the Renaissance, with influences from the Middle East.

Delisle is herself a Concordia graduate in Fine Arts (1982). A working artist, she moved to Florence in 1985, returning to Montreal each summer to teach. Now she is perfectly trilingual — French, English and Italian. She has been teaching part-time in Concordia's Studio Arts Department since 1983.

Wanting to share her love of Italy's artistic and historical richness, she proposed the course in Italy, and it was launched in 1988, on a shoestring, in Jesi, on Italy's Adriatic coast. Each spring since then, she takes 15 students there, initiating them in the art of seeing with all five senses and capturing the experience on the page.

"It is an apprenticeship of presenting what you're seeing," Delisle said in an interview. The course is open to students from any university – in fact, anyone who wants to explore their creative potential.

While learning how to keep a sketchbook of their observations from nature, art, architecture and daily life, students learn to analyze space, choose and develop a subject; they learn to understand the structure and dynamism of composition, and the essence of perspective.

What makes the course special is that the scenes and emotions the students are learning to render are rooted in the reality of Etruscan Italy.

"I do my best to show students the most beautiful scenes I know of," exclaimed Delisle, who can barely contain her enthusiasm for the country. The scent of jasmine and roses waft over the vistas of Bolsena, where she has taught the course for the last 10 years.

Bolsena is a small medieval town of 6,000 between Florence and Rome. The town's history can be traced to the first Iron Age through the ruins of Villanovan villages under the waters of Lake Bolsena. The birthplace of the martyr St. Christina, Bolsena is the site of a religious festival on June 10, when believers draw elaborate images on the streets and colour them in with fresh-cut flowers.

The Concordia students stay in a pension on the outskirts of an ancient volcanic crater, in the heart of a huge garden. They are close to the town centre, where merchants sell fish, cheese, olives and vegetables in a square dating back to the 18th century.

Mornings are spent drawing, and afternoons studying Italian language and culture, and discussing their work. They take day trips to cultural sites, such as Orvieto and Florence. The trip ends in Rome, where the group spends three days exploring the principle monuments under the guidance of a local specialist in art history and archaeology. Some students stay on after the course for more touring.

The trip costs $3,630; this includes tuition, an introductory course in Italian, plane tickets, room and board and excursions.

Delisle says from experience that it's the kind of trip that changes students' lives. "Very strong bonds are created during this one-month experience, and your way of seeing and understanding the complexity of art history changes forever."