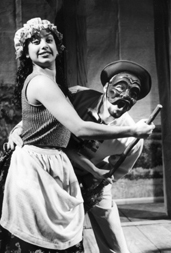 Theatre students Glenda Braganza and Jean Tartière ham it up in a scene from The Fickle Woman, now delighting audiences at the F.C. Smith Auditorium on the Loyola Campus.
The play was written by Carlo Goldini in 1750, and is a good example of commedia dell'arte, an enormously popular — and ribald — style of comedy.
The production, which is directed by Jean-François Gagnon, is on tonight, Friday and Saturday at 8, and Sunday afternoon at 2. Tickets are only $5 for students.
Photo by Heather Markgraf

History and Media intersect

Filmmaker Brian McKenna and Daniel J. Walkowitz, of New York University, will address the History in the Making conference this year. The event lasts all day on Saturday, March 17. Students will present their papers on a wide variety of topics, and the day begins and ends with the guest speakers.

Walkowitz is a professor of history and director of the Metropolitan Studies Program at NYU. His talk, called "Folk Dance, History and Videotape: Using Video Oral History in the Postmodern Era," will be at 9:30 a.m. in Room H-415.

McKenna, an alumnus who is well known for his documentaries (the fifth estate, The Valour and The Horror), will speak at 6:30 p.m. in the same location on "War and History: Notes from a Filmmaker."

Attendance at the symposium costs $5. It is sponsored by the Graduate Students of History at Concordia.

Colloque sur l'intermédialité

Le centre de recherche sur l'intermédialité (CRI) organise du 22 au 24 mars un colloque international intitulé La nouvelle Sphère intermédiatique III: Pratiques médiatiques de la manipulation identitaire. Le 23 mars à 20 heures à la salle H-937, Laura Mulvey , professeure au département de Film and Media Studies à Université Birbeck (Londres, U.K), tiendra la conférence suivante :

Criticism and Technology: Changing Approaches of the Analysis of Film.

L'entrée est gratuite pour les étudiants et de 5$ pour les non-inscrits au colloque.

Vous trouverez le programme complet du colloque à l'adresse : http://cri.histart.umontreal.ca.


Visiting speaker on British history

A distinguished British historian will visit Montreal over the next two weeks. Peter J. Marshall, immediate past president of the Royal Historical Society, Rhodes Professor of Imperial History at Kings College, University of London (1980-1998) and editor of The Writing and Speeches of Edmund Burke, will give several lectures here.

On Friday, March 23, at 12:45 p.m., he will be featured in a colloquium titled "Writing the History of Empire," in LB-608. On Tuesday, March 27, he will give a lecture at Marianopolis College on "History in Britain, 2001." That evening, he will lecture at McGill University (Leacock 808) on "The18th Century in Indian History: Revolution or Evolution?"

On Wednesday, March 28, he will speak at 4:15 p.m. in Room 507 of the Hall Building at Concordia on "Politics and the History of Empire."


Ned Goodman Chair in Finance Seminar

George G. Kaufman will give this seminar on Monday, March 19, from 10:30 am to noon in the J.A. DeSève Cinema, in the McConnell Building. Professor Kaufman is John F. Smith Professor of Economics at Loyola University in Chicago.

His presentation is based on his co-authored paper, "Post-resolution treatment of depositors at failed banks: Implications for the severity of banking crises, systemic risk, and too-big-to-fail." For a full electronic copy of this paper, please contact Professor Lawrence Kryzanowski, at lkryzan@vax2.concordia.ca.

Silas Katz Memorial Scholarship

Applications are invited for this scholarship, which was first awarded in 1984. It was made possible through donations from family, friends, faculty and staff in memory of Dr. Silas Katz, Professor of Mechanical Engineering.

It is open to students in the undergraduate program of the Department. Consideration will be given to students who are mature and self-supporting, who maintain good academic performance, and who have completed between 30 and 90 credits.

Applications should be sent to Dr. I. Stiharu, chair of the advisory committee, CR-211. Tel: 848-3152, Fax: 848-8635, e-mail: istih@vax2.concordia.ca). The deadline is March 30. Recipients will be notified before April 10, when the awards will be made.


Helen Prize awarded in Finland

The Helen Prize for Humanitarian Works, which has been given annually for three years, was awarded on March 8 in Finland to 19 women. Kirsten Paltto, of Finalnd, won the $5,000 cash prize.

In the past, the Helen Prize has been presented at Concordia. It is being given in Europe this year because most of the recipients are from there.

Concordia Education Professor Arpi Hamalian is president of the Helen Prize board of directors, and Études francaises professor Maïr Verthuy was on the adjudicating board.


Student access to machine shop

A one-day refresher course will be held in the Mechanical Engineering Machine Shop to make the facility more accessible to students.

To be eligible, students who wish to register must provide proof of prior machine shop experience.

The course finishes with test to ensure the safety of participants. Students who pass the test will be allowed to use the student shop facilities under supervisors' guidelines.

To register, or for more information, please contact Brian Cooper in the Machine Shop, Room 0024 of the Henry F. Hall Building, by 4:30 p.m. tomorrow, Friday, March 16.