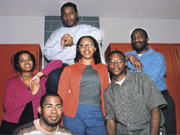 Left to right are Tanya Stephens, Ralph Chéry (seated below), Kapinga Mbuy (at top), Chantelle Brown, Fritz-Edwin Jocelyn and Claude Mukam.
Photo by Rosalind Raddatz

by Jane Shulman

When Tanya Stephens was thinking about becoming an engineer, she didn't have to look far for a role model. Her brother was already in an engineering program.

He had also joined the McGill chapter of the National Association of Black Engineers, a group that encourages and supports engineers from minority groups and people interested in becoming engineers.

"He was a role model for me, and I knew I wasn't alone," Stephens said. She followed in her brother's footsteps, enrolling in an engineering program at Concordia, and she also joined NSBE, so she could meet other people from minority groups who were studying engineering.

"A large part of NSBE mission is to get more people involved in engineering and science," said Stephens, who is now the group's treasurer. She noted that people in the black community are often discouraged from taking post-secondary science and math classes, often because there is no one to tell them they are capable of succeeding in those fields.

Fritz-Edwin Jocelyn, Concordia NSBE's president and a third-year engineering student, agreed. "People get misinformation about engineering," he said. "They hear from friends that math and physics are hard, then they are discouraged from looking into engineering and make poor choices. They need to know they can do it, too."

Concordia's NSBE chapter started last year, and now has about 40 members. Before that, Concordia students interested in joining the organization, which boasts a membership of more than 15,000 students in North America, had to join the chapter at McGill.

Founded in 1975, NSBE is the largest student organization in the United States. Part of its mandate is to increase the number of culturally aware professionals.

NSBE promotes academic excellence and community involvement. This includes encouraging young people of colour to learn more about engineering, with the hope of bolstering the number of engineers from minority groups. As it stands, there are few black engineers, and even fewer black women engineers.

Through mentoring, tutoring and community outreach, NSBE members spread the word that engineering isn't as impenetrable a field as its reputation may suggest. NSBE members talk with high school students and let them know that engineering is a viable option for them.

"We give talks on the digital divide — how people who are financially disadvantaged don't become part of the technology wave. As engineers, that's our business, so we have to make sure we're up to speed."

Although its name suggests otherwise, members don't have to be black, and they don't even have to be engineers. They just have to have a desire to encourage young people to do their best.

The name is a bit misleading," Jocelyn acknowledged. "The reason they kept the name even after the organization wasn't only for black engineers was out of respect for the people who started NSBE."

The group does fundraising, too, so that they can send members to NSBE's regional and national conferences. Twelve students will represent Concordia's chapter at this year's national conference in Indianapolis on March 14.

The conference is an opportunity for members to connect with their peers from across Canada and the United States. It's an opportunity for members to see what NSBE is all about.

"I went to the regional conference last year," said Ayana Goin, another engineering student and NSBE member. "It was mind-blowing to see all those people! It makes you feel like you're not alone, which can happen sometimes when you look around classes. There are few women, and almost no women of colour,"" she said.

"People in the community want us to succeed, to reach others and to be a support," Stephens said. "One of the nicest parts of NSBE is the support system."

Goin agreed: "It shows you that people have done this before you."