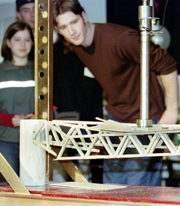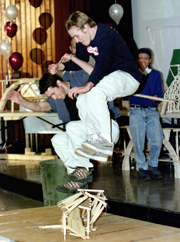 After the bridges' resistance is carefully calibrated by applying "The Crusher," the bridge-builders can do what they like with their creations.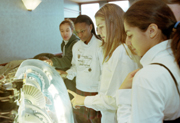 Visitors look at a model of an airplane engine turbine.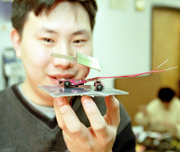 Jeffrey Yong
(Electrical Engineering)
inspects his robotic solar car.
Photos by Andrew Dobrowolskyj
Annual Building Competition

More than 30 teams, local, national and international, took part in the 17th annual Bridge Building competition that was the climax of National Engineering Week at Concordia last week.

This year's winning bridge came from the team from Ryerson Polytechnical University, in Toronto, but Concordia's team put in its usual valiant effort.

The idea is to construct the strongest bridge possible, using only popsicle sticks, toothpicks, white glue and dental floss. Bridges are judged on their resistance, aesthetics and originality. As you can see, the competition is fierce.


Women in Engineering Conference

More women are becoming engineers now than ever before, but the profession has a long history to overcome of being a club for boys only, and Concordia's engineering students are working to see that change.

The Engineering and Computer Science Students Association (ECA) launched National Engineering Week by playing host to nearly 100 girls from several Montreal high schools and CEGEPs at the Women in Engineering Conference last week. ECA says that since launching this event in 1993, there has been a steady increase in female enrolment in engineering at Concordia.

Students toured the SGW campus, participated in group discussions with women engineers, tried bridge-building, and made insulated boxes for eggs so that they wouldn't break in an egg toss competition.
–Jane Shulman
Please see our other articles on National Engineering Week.