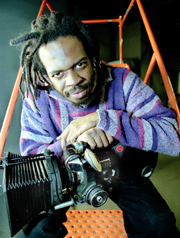 From small potatoes
to the Big Apple
There was a time not too long ago when Film Production student Stefan Verna above) thought Montreal was
small potatoes. So, like many an aspiring actor, he took off for New York City hoping for a break.
What he found was a concentrated hub of genuine talent swimming everywhere. "It was a humbling experience," said Verna of his two years there. For the Art Matters festival, Verna screened Chocolate City at the DeSève Cinema.
It's a film about a jazz musician who dreams of success in the Big Apple. Verna wrote, produced and directed the piece, which was loosely based on his own experiences.
Photo by Andrew Dobrowolskyj


by Anna Bratulic

It's been a long five months. Michael Golden and the other co-Art Matters organizers — Julie Fowler, Ruthie Sumiko Tabata and Yael Wand, as well as a slew of other people — have been working hard since October trying to make the student-initiated arts festival a reality.

The festival, which commemorates the 25th anniversary of the Faculty of Fine Arts, is intended to showcase visual and performance art works from Concordia students in a professional setting.

Over 14 days, March 5-18, the festival has shown more than 80 projects in at least eight venues by some 400 students in all the arts disciplines — film, theatre, painting, sculpture, photography, music, etc.

"For the next group who decide to do this project: Don't take a full course load. This is not a job for a student," advised Golden.

He said that while the festival has been an incomparable learning experience, the work required to organize it was physically and mentally exhausting. Endless meetings, continuous requests for funding and lots of stress have had to be juggled with the demands of university studies.

Nevertheless, Golden feels that any blunders the Art Matters team may have experienced this year will only simplify things for their successors. "If we could do this again, it would be so much easier, we would be able to sleep more," he said with a sigh.

Golden, whose own artistic contribution to the festival was a jazz vocal performance, took in a few shows and is impressed by the talent.

"I was inspired," he said, referring to a play called Swim by student Emily Follet-Campbell. "I remember sitting there watching the actors and thinking, Maybe I'll be an actor."

There were moments that were slightly less pleasant, like the time a student spectator burst into a two-minute tirade at the VAV Gallery about how the festival was a waste of time and university resources, and how the quality of the works left much to be desired.

"I just looked at her, handed her a festival program, and said, 'I'm really sorry.' It just showed one of the major things I've learned during the festival, and that is, you can't please everyone."

The real satisfaction would come from establishing a legacy, an annual arts festival that keeps on growing after the original participants have graduated. Golden thinks it should become a paid position.

"It attracts artists from all over, it attracts media attention, it raises the profile of the university. Concordia is really lucky we did this," he said.

Art Matters will wrap up with a gala featuring festival highlights, guest speakers and refreshments tomorrow night at 8:30 in the Oscar Peterson Concert Hall. An informal reception will kick it off in the Hive at 7. All are invited.