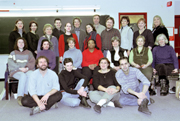 Students in Concordia's MA in Human Systems Intervention program got together for a photo at their last weekend session.
Photo by Andrew Dobrowolskyj

by Amy Paradis

The freezing rain had turned the downtown campus into a perilous skating rink, but inside the big, warm meeting room of the Applied Human Sciences annex on Bishop St., 21 mature people lounged comfortably, their drenched coats and boots hanging in the corner.

This was not a conventional classroom, not only because of the near-perfect attendance despite the weather, but also because these students would remain in their learning environment for much of the weekend, something they do every month. They are students in Concordia's MA in Human Systems Intervention program, the only one of its kind in Canada.

"Human system," explained Acting Graduate Program Director Dorothy Markiewicz, describes the relationships among people who may be in the same group, but who have different intentions and goals. Working groups, organizations, even neighbourhoods are all human systems.

Professor Markiewicz said that while the program itself is not offered elsewhere, what students learn from it is gaining importance in working environments.

"We know that organizations are always changing — living, growing, evolving, degenerating. They're not static. With the program, we're recognizing these changes and learn to anticipate, initiate and deal with them in a constructive way."

The students, "change agents" in training, as Dr. Markiewicz described them, are taught to be aware of change and to ensure that it is as positive as possible. "You can't just know the words," she said. "You have to know the music and how to dance to it."

The two-year program was developed in 1995 to allow students to study while working full-time (having at least two years in the workforce is a prerequisite of the program). That way, students can apply what they learn to their careers immediately.

To accommodate the busy lifestyles of these professionals, who range widely in age, courses are taught in an intensive weekend every month. Much of the second year is reserved for their individual MA project, which may concentrate on such subjects as organizational vision and facilitating amalgamations.

While many of the 21 first-year students enrolled in the program are from the Montreal area, others travel to Concordia every month from Ottawa and central Ontario, and some are from as far away as Vancouver and the United States. They typically work full-time, some as internal consultants, others as private consultants, and some work in community programs.

First-year student Suzanne O'Brien, 48, is the coordinator of the Hope & Cope cancer support program at the Jewish General Hospital. She enrolled in Human Systems Intervention to learn how to deal with the changes in Quebec's hospitals. "People are burning out and are leaving the health care system," she said. "I asked myself, 'How can I do what I already do better?'"

"[The graduate program] certainly opened my eyes and has let me see things through a different lens," she added. "It's an eclectic program that combines psychology, sociology, and anthropology. I wish the program was available 20 years ago."

O'Brien said she has already applied in her palliative care unit what she has learned in her courses, and especially in her discussions with her classmates.

"Organizations aren't just products, but people," she said. "I want to know how spirit and soulfulness are brought to groups, and how employees feel valued in what they do."

Markiewicz agreed that involving all employees is a vital part of the program. "Change agents are not Supermen. They don't fly in, change what they want, and whisk out. They are more involved in finding a change process that is good for everyone concerned."
For more information on Concordia's MA in Human Systems Intervention, visit the Applied Human Sciences department at 2085 Bishop, or go to their Web site:
http://artsci-ccwin.concordia.ca/ahsc/Graduate_Programs/index.cfm.