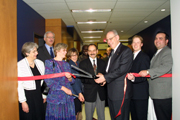 Cutting the ribbon to open the new Arts and Science Learning Lab in the Hall Building are, left to right, Dr. Patsy Lightbown (Teaching English as a Second Language), Andrew McAusland (IITS), Dr. Catherine Vallejo (Classics, Modern Languages and Linguistics), Dr. Lucie Lequin (Études françaises), Provost Jack Lightstone, Dean Martin Singer, Patrick Devey (Administrator of the Learning Centre) and Vice-Rector Services Michael Di Grappa.

Photo by Andrew Dobrowolskyj

by Barbara Black

The new Arts and Science Learning Centre on the fourth floor of the Henry F. Hall Building was inaugurated May 30 with a ribbon-cutting ceremony and reception.

The project, funded by the recent capital campaign via a grant from the McConnell Foundation, has created an up-to-the-minute learning and conference environment by renovating and rewiring four classrooms.

"It doesn't even look like the Hall Building," said one visitor—and that's a compliment. Warm wood panelling and dark blue walls envelope a small lobby, tiny administrative offices and three high-tech suites.

One, H-447, is the 40-seat Multimedia Language Lab, with individual workstations, a smart board and videoconferencing capability. The laboratory is equipped with CAN8 VirtuaLab software, which uses the latest in voice technologies to revolutionize language instruction.

A second room, H-449, is the Distance Learning Studio, with 33 computer terminals and high-speed Internet access. Students without other access to computers will be able to book terminals for research, writing and on-line course work.

The third room, H-443, is an Interactive Teaching Studio, which faculty members can use to conduct conferences and job interviews over distances, or a thesis defense where an examiner is in another city.

Patrick Devey is the full-time administrator of the Learning Centre. It was a project conceived by Andrew McAusland, director of Academic Technology in Arts and Science, and executive director of IITS. Dean Martin Singer also paid tribute for their active support to Provost and Vice-Rector Research Jack Lightstone and Vice-Rector Services Michael Di Grappa.

As Di Grappa remarked on his way out of the celebratory reception, this is just the beginning for the renewal of the Hall Building. The mezzanine, much used for recreation and exhibits by the students, is under renovation this summer, and next in line is the lobby.

When the new science and engineering buildings are built, the eighth to eleventh floors of the Hall Building will house the social sciences. The building will also be the site of all undergraduate classes in Engineering and Computer Science.

The Learning Centre is for the use of Arts and Science students, but other Faculties, and external groups, will be able to rent facilities, particularly the video-conferencing room.
For more information, please contact the Centre at 848-4075, or book via the Web site: http://artsandscience.concordia.ca/learning_centre.