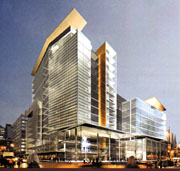 The corner of Guy and St. Catherine Streets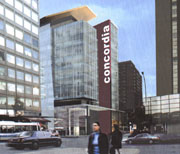 Looking west on de Maisonneuve Blvd.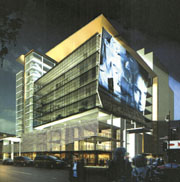 The corner of Mackay and St. Catherine Streets.
Members of the Jury:
Bram Freedman, Assistant Secretary-General and University Legal Counsel (chair)
André Leguerrier, architect; project co-ordinator and secretary (non-voting member)
Georges Adamczyk, director, School of Architecture, Université de Montréal
Mohsen Anvari, Dean, John Molson School of Business, Concordia University
Richard de la Riva, architect, Affleck & de la Riva
Nabil Esmail, Dean, Engineering and Computer Science, Concordia University
Kurt Forster, Director, Canadian Centre for Architecture
Christopher Jackson, Dean, Fine Arts, Concordia University
Martine Lehoux, architect; Director, Facilities Planning and Development, Concordia University
Frederick H. Lowy, Rector and Vice-Chancellor, Concordia University
Jonathan Wener, president, Candarel; chair of real estate planning committee, Board of Governors, Concordia University
Andrea Wolff, architect, Wolff Shapiro Kuskowski

Kuwabara Payne McKenna Blumberg
KPMB is a relatively young firm, based in Toronto. They are responsible for many public and private buildings built in the 1990s, particularly in southern Ontario. These include the Joseph S. Stauffer Library at Queen's University, the Walter Carsen Centre for the National Ballet of Canada, an expansion of Creed's, the upscale women's wear store on Bloor St., the headquarters of Alliance Communications, and two major buildings at the University of Toronto, Woodsworth College and the Fields Institute, a research facility for advanced mathematics.
One of their first commissions was the headquarters of the Saatchi and Saatchi advertising agency; this interesting redevelopment of several historic buildings on King St. E is called King James Place. They also designed the stylish Design Exchange (D/X) around the former art deco Toronto Stock Exchange building.
KPMB has designed a number of important buildings outside Toronto. These include the premises of an advertising agency in New York City, Ammirati Puris Lintas, and the headquarters of the big toy company Hasbro, in Pawtucket, R.I. They are responsible for the new Kitchener (Ont.) city hall, and a women's correctional facility in the Kitchener area.
---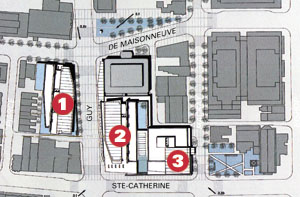 Map of Le Quartier Concordia:
1. The John Molson School of Business
2. Engineering and Computer Science
3. Visual Arts
---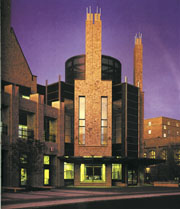 By the same architects…
The Joseph S. Stauffer Library at Queen's University was also designed by Kuwabara Payne McKenna Blumberg, the winners of the Sir George Williams architectural design competition.
The limestone cladding used fits comfortably with the stonework of the surrounding buildings, and the colour palette subtly evokes the university's colours, yellow, blue, and red.
The column above the main entrance, shown here, contains a reading room with fireplace and a helical staircase suspended by cables which leads to the upper-floor stacks.
Completed in 1994, the building won the Governor-General's Award for Architecture in 1997.