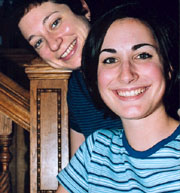 Megan Bochner and Jessica Gallant.
Photo by Rosalind Raddatz.


by Jane Shulman
Concordia's remarkable multidisciplinary course HIV/AIDS: Cultural, Social and Scientific Aspects of the Pandemic combines theory with hands-on learning.
Part of the course is a four-hour-per-week internship that students choose at the beginning of the year. The internship supervisors organize dozens of sites to choose from, including AIDS hospices, play groups for kids with AIDS, and AIDS referral services. The internships offer students experience with the subjects covered in class, and provide the host organizations with much-needed help.

Mosaik is a West Island organization for people living with HIV/AIDS. It focuses on alternative forms of long-term care that help people stay out of hospital for as long as they can. Along with support groups and fundraisers, the group runs Kamp Kinkora, a weekend camp in the Laurentians held around Christmas for people who are often lonely during the holidays.

Tracey Huot, a Journalism student who took Concordia's HIV/AIDS course two years ago, was attracted by the group's focus on art therapy. Huot's work varied by week, depending on where help was needed most.

"It's a small organization run out of a basement in Lachine. Everybody does everything," she said. "The people who go there are all ages, all ethnic and racial backgrounds, different socio-economic circumstances. Lots don't have families, and the community that Mosaik creates is so important for them.

"The Kamp is an incredibly emotional event. People are really happy, but it brings lots of tears too," Huot said. "I've read statistics that point to the holidays as being the hardest time for people with AIDS. When I was there I talked with lots of people about things as simple as what a weekend means to them, and how hard that can be. It really had an impact on me."

Huot began by doing her assigned internship, but as so many others have, she continued working with the organization long after the class ended. For a year or so after her internship, Huot did a 90-minute commute from the South Shore a couple of times a week to volunteer at Mosaik.

"It opened my eyes to a whole new world," she said. "I mean, I had read stuff about AIDS and I knew the facts, but this put a face to the disease, having the chance to live with people with AIDS.

Jessica Gallant, a Concordia Sociology student, began volunteering at one of the internship sites before she took the HIV/AIDS class. She volunteered at Chez Doris, a downtown Montreal women's day shelter that offers support to women in crisis, including women who have HIV/AIDS and many who don't.

Gallant began by serving meals for 90 minutes a week, and soon was there a full day a week. By the end of last year, she was hired to work weekends at Chez Doris during the school year. The shelter offers activities, snacks, active listening, crisis intervention and a referral service.

Gallant registered for the HIV/AIDS class this year, and along with her time spent at Chez Doris, she now interns at AIDS Community Care Montreal in what little spare time she has. There, she helps where needed, doing clerical and reception work and making snacks for ACCM's drop-in centre.

"The snacks are really important at the drop-in, because a lot of people who come are not eating properly," she said. Gallant plans to continue doing outreach projects that allows her to do independent, hands-on work. She would like to do a Master's degree in social work.

Early in her stint at Chez Doris, Gallant met Megan Bochner, a Concordia Women's Studies major doing her AIDS class internship at the shelter. Like Huot, Bochner continued to work at her organization long after her internship ended. She was hired earlier this year to work weekends.

"We see to women's basic necessities during the day — counselling, referrals, women who have been assaulted and women who are on the streets," Bochner said. "Sometimes the police bring them, because there's no other place that's open during the day."

Bochner says the real-life experience changed the course of her life, guiding her career choices. "In Women's Studies, I had never practised my politics, so this definitely jolted me awake. It was one of those experiences where you realize everything you've learned doesn't apply anymore.

"This changed the way I approach everything. It has informed everything I say. When we have a class discussion on AIDS or women or homelessness, I have someone in mind now when I speak," Bochner said.

"This is the other side of academia and activism. I was trying to find a way to fit it all into my life, and this works for me. I was never one to hold up signs, but this is a form of activism I want to do."

Bochner now represents Chez Doris on a committee on homelessness that includes community workers, police and others who work with homeless people downtown. She says a stage should be part of every discipline.

"Before I took this course, it was all general, not applied and not practical. If we can do this more, if we can make what you're learning make sense and make a difference, then isn't that utopia?"