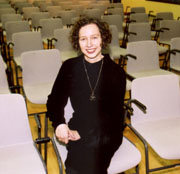 Photo by Andrew Dobrowolskyj.


by Alyson Grant
Governor-General's-Award-winning poet Stephanie Bolster told the 100 or so people who gathered to hear her read from her work that she was disappointed to be reading to them.

"This room is so beautiful," she said, referring to Dawson College's domed reception hall. "I'd like to sit and look out the windows."

To those familiar with Bolster's work, the remark made perfect sense. Bolster's tendency to observe and turn what she sees into remarkable poetry is part of what makes her one of Canada's most exciting young writers.

"Her poems are like origami you can play with," friend and fellow poet Carmine Starnino recently said. "She takes an inert idea and folds it up into something that is alive and active. She does something extraordinary with it."

With two collections of poetry, internationally published poems and several major literary prizes behind her, the 31-year-old British Columbia native is certainly doing something extraordinary. As a new Assistant Professor of Creative Writing in Concordia's English Department, she is now sharing her talents with students.

Michael Harris was the editor for White Stone: The Alice Poems, which won Bolster (and her publishers, Véhicule Press) the1998 Governor-General's Award. "By nature, she's affable and communicative. I suspect it's a very worthwhile workshop," said Harris, who also teaches Creative Writing at Concordia.

Ben Kalman, one of Bolster's undergraduate students, agreed. "She's inspiring, and she encourages us, and loosens up a lot of students," he said. "Her comments on my work have been very helpful."

In turn, teaching has been helpful to Bolster. "It's made my life feel whole in a way that it hasn't felt in a while," she said in a recent interview.

Bolster arrived in Montreal after a four-year stint in Ottawa, where she taught and worked as an editor at the National Gallery. Her published work is often rooted in a strong sense of place, and the move east from her native Vancouver has meant a shift in her writing. Her earlier connection to nature, coming from "a normal human pace moving through the landscape," has been replaced by concern for interiors and art.

Despite this shift, Bolster said she will likely keep returning to certain images and subjects. "Boundaries, which was part of what drew me to the Alice books, this whole idea of crossing into another world, interests me," she said, referring to Lewis Carroll's Alice in Wonderland, the inspiration behind White Stone.

A central boundary that caught Bolster's imagination was the one between Alice Liddell and Charles Dodgson. Dodgson, who rose to fame as Lewis Carroll, met Liddell, the real Alice behind the fictional one, when she was a young girl.

There has been much speculation on the appropriateness of Dodgson's closeness to the young Liddell, and when Harris first read Bolster's manuscript, he was struck by her understanding of the tension between Dodgson and Liddell as a window through which to look at an enormous variety of subjects.

"What was important about Stephanie's book was that she'd developed Alice as a metaphor for her own way of addressing the world," Harris said. "Alice, in short, became the camera through which she looked at the world."

Bolster, who wrote the Alice poems as part of her MFA in Creative Writing at UBC, has moved on to new cameras, such as Japanese aesthetics and culture. She has also replaced the tight lyric poems of her earlier work with a longer, looser form. "I can put things in instead of take things out," she said. "It feels more like a container than something sculpted down to the bare bones."

Teaching has not slowed her down. "Having the time constraints has made me more productive. I value and use time in a better way," she said. "Also, I have such talented students. It's inspiring and humbling to be working with their manuscripts."