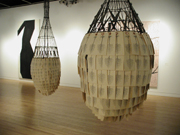 Hanging Garden, by François Morelli.

Photo by Christian Fleury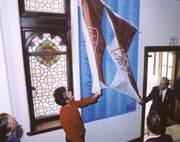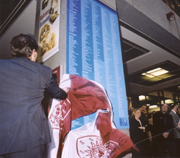 Photos by Christian Fleury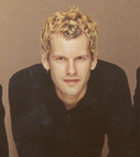 Timothy Jones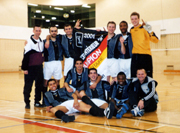 Photo by Vladimir Pavlicik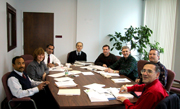 25 artists from 25 years

Concordia's Leonard and Bina Ellen Art Gallery has a remarkable show on right now of 25 pieces of art by graduates over the Faculty of Fine Arts' quarter-century.

Professor Emerita Leah Sherman wrote an engaging history of the Faculty's quarter-century as part of the exhibit brochure. The brochure, in turn, was designed by two alumnae in Design Art, Lea Berger and Megan Titman. Both 98 grads, they now have their own Montreal company, DFI Design.

Here are the graduates of the Faculty of Fine Arts whose works are on display at the Leonard and Bina Ellen Art Gallery, 1400 de Maisonneuve Blvd. W., until April 17:

Jocelyn Alloucherie, MFA 81; Jo-Anne Balcaen, MFA 00; Barbara McGill Balfour, MFA 88; Eva Brandl, MFA 76; Millie Chen, MFA 94; Sorel Cohen, BFA 74, MFA 79; John Di Stefano, BFA 86; Karilee Fuglem, MFA 92; Angela Grauerholz, MFA 82; Clara Gutsche, MFA 86; Valerie Lamontagne, BFA 93; Shelly Low, BFA 96; Louise Masson, BFA 85; François Morelli, BFA 75; Frank Mulvey, BFA 82, MFA 87; Devora Neumark, BFA 84; Lorraine Oades, MFA 90; Brigitte Radecki, MFA 82; Sylvia Safdie, BFA 75; Lauren Schaffer, MFA 96; Stephen Schofield, MFA 82; Andrea Szilasi, BFA 91; Nell Tenhaaf, BFA 74, MFA 90; Jin-me Yoon, MFA 93.

---
Plaques honour faculty and staff giving

Plaques were unveiled on both campuses last week to acknowledge with gratitude the gifts to the recent capital campaign by faculty and staff.

The goal for faculty and staff was set at $500,000, but it was more than doubled—713 donors raised $1.1 million. That was more than four times the amount raised in the previous capital campaign.

Chancellor Eric Molson was a guest at the receptions, and Professor Frances Shaver, as a campaign co-chair, did the unveiling along with Rector Frederick Lowy. The other co-chair, Ann Kerby (Advocacy/Support Services), was unfortunately out of town.

The plaques are in the Administration Building on the Loyola Campus, and in the atrium of the J.W. McConnell Building, on the SGW Campus.
---
Hearing begins into overturning of tables

A Student Hearing Panel has begun hearing a case against two students for their alleged participation in disrupting a job fair on the mezzanine of the Henry F. Hall Building on February 1 and 5.

A formal complaint was made to the Advisor on Rights and Responsibilities by André Gagnon, Coordinator of Career and Placement (Counselling and Development), after tables set up by the Canadian Security Intelligence Service (CSIS) and the Black Watch Regiment were overturned by a crowd in two separate incidents.

Only two of the students involved, Tom Keefer and Christina Xydous of the current CSU Executive, could be identified by witnesses and they are being charged under the university's Code of Rights and Responsibilities.

The Panel is comprised of three students, chosen from a pool selected by a committee composed of representatives from each recognized student association, and a non-voting chair, Me Christian Immer, a member of the Quebec Bar who is working pro bono.

The first session, held April 5, was taken up with 11 procedural motions from the student respondents that Me Immer, as chair, had to rule on. The hearing will resume May 4 at 4 p.m., in a location as yet to be determined.

The Code of Rights and Responsibilities can be consulted at http://relish.concordia.ca/Legal_Counsel/policies/english/BD/BD-3.html.
---
A winning printmaker
Congratulations to Timothy Jones (left), who won the $1,500 prize in the undergraduate student category for his etching, Self-Portrait, in the big annual printmaking competition sponsored by Loto-Québec. His etching will become part of the Loto-Québec art collection, one of the largest and most dynamic corporate collections in Quebec.







---
Constante Variable

Contemporary Dance student Nadia Pasqua, as part of an Independent Study course, choreographed and staged a dance piece recently at Studio 303 called Constante Variable. The other performers were Magalie Cantin, Manon Desrosiers, Hinda Essadiqi, Leslie Fisher, Sandy Williams and Amada Wurts, all current or recent Dance students.

---
Molson team wins accounting contest

Congratulations to a team from the John Molson School of Business for winning another accounting case competition. This local competition, sponsored by Raymond Chabot Grant Thornton and PricewaterhouseCoopers, was open to any accounting student in the BComm or graduate diploma programs from the four Montreal universities.

Seven teams participated: two from Concordia, two from HEC, two from McGill, and one from UQAM.

The competition, which was held on March 31, comprised a three-hour case analysis followed by a 20-minute presentation by each team. Concordia's winning team consisted of Lisa Marino (third year), Rikesh Shah (first year), and Shiraz Syed (third year). They won $500, presented by PricewaterhouseCoopers. Teams from McGill and HEC took second and third place.

---
Our indoor soccer champions

The men's Stingers soccer team recently captured the Quebec (QSSF) indoor championship at the Université du Québec à Trois-Rivières. The Stingers finished the regular season in first place with a 3-1-3 record (three wins, one defeat and three ties).

In the last weekend of March, they beat UQAM 3-0 in the semi-finals and then won the final in an exciting shoot-out against UQTR, two shots to zero. Ammar Badawieh and Mehdi Mourali scored for the Stingers in the shoot-out. Goalie Richard Green made two great saves in the shoot-out to contribute to the margin of victory.

In the photo, back row, left to right, are Robert Pinkston, Ammar Badawieh, Mehdi Mourali, Frank Pons (C), Ameen Brereton and Richard Green. In the front row, left to right, are Steven Craig, Rahul Ray, Theo Analitis, Adler Louis-Jean and proud coach Vladimir Pavlicik.

---
More hockey for scholarships

Recently we told you about the staff hockey team raising money for scholarships through the Alex Laurie Memorial Fund. They're not the only ones playing for needy students.

Ron Rappel, Head Athletic Therapist, has been building up a scholarship fund for students in the Department of Exercise Science.

For three years now, Ron has been getting his business friends to pay $150 for the privilege of playing hockey on an NHL rink. Last year, they played at Maple Leafe Gardens, in Toronto. This year went to New York City and played at Madison Square Gardens.

Not satisfied with that, they just played another game in the Molson Centre.

By the end of the year, Ron estimates that the fund will have reached $20,000, enough to sustain an annual scholarship for a student entering athletic therapy. The awards will be made each September.

---
Building Studies hosts civil engineering executives

The Centre for Building Studies (CBS) recently hosted the annual meeting of the executive committee of the Aerospace Division of the American Society of Civil Engineers.

Photo at left: Ted Stathopoulos, Director of CBS, seen at front right, is chair of the committee. Participants included (left to right) Ramesh Malla (University of Connecticut), Marie McGuinness (CT Department of Economic and Community Development), Richard Servidio (SE Consultants, Vermont), Nick Isyumov (University of Western Ontario), John Wetzel (Applied Research Associates), Bob Russell (Manager, Technical Activities, ASCE) and Walter Boles (Eastern Kentucky University).

---