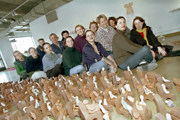 The 13 students are Christelle Cuilleret, Amy Drover, Pari Ghaemmaghami, Audrey Lavallée, Shari Leblanc, Brenda Ludington, Natsuki Matsui, Natanya Nerenberg, David Oxley, Jesse Purcell, Rubidia Roque, Taylor Streetma and Virginie Villeminot.
Photo by Andrew Dobrowolskyj

by Barbara Black
On the Edge of Our Seats is the name students gave their striking ceramics installation of 800 little brick chairs and seated figures.

Every year, Francine Potvin gives her second-year Ceramics class the chance to design their own group project. The emphasis is on collaborative art, reaching out to the community, or as Potvin says, "abandoning the Modernist lone-artist paradigm."

In other years, her students have worked in clay with mentally challenged young people, and with the sight-impaired. "One year, they made ceramic pieces and handed them out in the métro," Potvin recalled.

"People were a little suspicious at first."

This year, a student suggested working with a fundraising group at the Montreal Children's Hospital. Quebec's crumbling health care system became the focus of the piece.

Wanting to make use of unorthodox ceramic materials, the class approached a brickyard, and Briqueterie Saint-Laurent was happy to donate 500 unfired bricks. The bricks were split to make two chairs out of a single brick, and fired several times in Concordia's large gas kilns. Figurines were modeled out of terra cotta, stoneware, talc and porcelain.

The result is a miniature waiting room, a common sight in our hospitals these days.

After a brief vernissage ceremony on April 3, the students and their supporters carried 100 of the pieces down René-Lévesque Blvd. to the Montréal Children's Hospital, where they will be on display. In fact, they'll be up for sale, for $30 for a set of two, and the money will go to the hospital through the Andy Collins for Kids Fund.