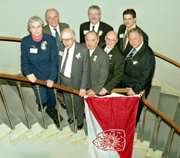 Seen at the Alumni Awards, in the back row, are Malcolm Renshaw, Randy Swedburg and Vince Labossière. In the front are Patsy Lightbown, John O'Brien, Claude St. Amour, John Freund and Jonathan Wener.

Photo by Andrew Dobrowolskyj

by Barbara Black

The 11th annual Alumni Recognition Awards were presented at a banquet on April 5.
The Humberto Santos Award of Merit was presented to Jonathan Wener (Sir George BCom 1971).

A well-known real estate developer (Canderel), Mr. Wener has been an active member of Concordia's Board of Governors since 1995, and head of the Board's real estate committee since 1996. He has helped Concordia expand its real estate holdings and has been heavily involved in the plans to dramatically alter the university's facilities over the next few years.
He was a volunteer canvasser for both of Concordia's capital campaigns, and remains involved in fundraising for the university. In 1991, he received the Commerce Award of Distinction from what is now called the John Molson School of Business.

Benoit Pelland Distinguished Service Awards were presented to John Freund, Loyola BComm 1964, a past president of the Loyola Alumni Association; Malcolm Renshaw, Sir George BA 1959, an active member of the Association of Alumni of Sir George Williams University since 1978; and Claude St. Amour, Loyola BA 1963, a longtime member and past president of the Loyola Alumni Association.

An Honorary Life Membership was given to Dr. John Wilfred O'Brien, first Rector of Concordia University. An economist, he was the youngest university head in Canada when he was named Principal of Sir George Williams University in 1969, at the age of 38. He took an active role in the talks that led to the merger in 1974, and was a steadying hand at the helm through an era of tumult and rapid growth. Now retired from teaching, he continues to play an active role at the university as Speaker of Senate.

Excellence in Teaching Awards were presented to TESL Professor. Patsy Lightbown and Applied Human Sciences Professor Randy Swedburg.

Patsy Lightbown came to Concordia in its first year, 1974-75, from North Carolina, and has become not only a popular teacher, but a recognized expert in second-language acquisition. She is a past president of the American Association of Applied Linguistics, and several years ago went to Buckingham Palace to be presented with the English Speaking Union's Duke of Edinburgh Prize in Applied Linguistics.

Randy Swedburg came to Concordia from Saskatchewan by way of studies in Minnesota and Idaho and teaching in Illinois. He is a past president of the American Association of Leisure and Recreation, and, with his wife, Judy, has been involved for a number of years with Elderhostel, the educational touring movement.

The Outstanding Student Award was presented this year to Vince Labossière. Vince graduated last spring with a BSc in Exercise Science having earned a 3.85 GPA throughout the program, and a remarkable 3.99 in his final year (4.3 is the highest possible). This year, he has been in the Diploma in Sports Administration program.

Vince's leadership skills made him captain of the Stingers hockey team. A defenseman, he was four-time CIAU Academic All-Canadian and two-time Concordia Male Academic Athlete of the Year, and the recipient of the 1997-98 Guy Lafleur Scholarship, 1997-98 Laurie Brodrick Scholarship, 1999-2000 Millennium Scholarship, and 2000-2001 Ed Enos Scholarship.